Connecting kids with what they need to become engaged readers and learners includes personal and relevant experiences that build confidence. Tami Mounts shares some of the opportunities she's found in her community to help encourage her own daughter find joy in the written word.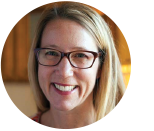 Tami Mount is a consulting editor and content developer for PBS TeacherLine (opens in a new window), a service that provides online professional development courses for Preschool to 12th grade teachers. In her career, she has launched major digital education services including PBS LearningMedia (opens in a new window) and DiscoverySchool.com and received multiple children's and educational media awards.
My daughter was an avid book listener.
I say "listener" because she loved stories but rarely, if ever, independently picked up a book to read for pleasure.
While blessed with a sea of strengths, she struggled to read. She would give anything to read with ease like her classmates but for her, the act of reading was hard work.
I knew that readers get better with practice. And I didn't want her to miss out on the stories, authors, and experiences that great books give us, especially during this precious stage in her young life. So I sought out afterschool reading activities — fun and authentic ways to serendipitously practice reading skills.
First of all, our family read aloud every single night, from day one into 5th grade. We read everything from picture books to adventure novels, dramas, and biographies.  Because her intellect was beyond her reading ability and she has adept listening skills, she was able to absorb meaning and vocabulary from books that were otherwise inaccessible.
The Graphic Novel Book Club at our local library, a familiar place where neighborhood friends gather after school, was a mix of boys and girls of all reading levels. Once a month, the librarian gathered the kids for thematic activities that reinforced vocabulary, reflected on the plots, and discussed characters created by the authors and illustrators. My daughter gravitated to graphic novels over other genres because the illustrations give context clues for challenging vocabulary and the shorter text is less strenuous when stamina is low.
Joining the children's choir took coercion (usually in the form of doughnuts). The choir director provided songs early in the week to read the hymns and practice before Sunday. This repeated reading familiarized the new vocabulary and also gave reason to read and sing with expression.
For the school talent show, she and a friend came up with the idea to act-out There is a Bird On Your Head! by Mo Willems. This book is full of expressive language that makes playing the characters a very animated and amusing skit to watch.
One summer, some moms and I started a book club (opens in a new window) with our daughters who were close in age and friendship. Doing this club showed my daughter that no one is a perfect reader (not even the adults) and that not all books have to be great for everyone. We established a relaxed and nonjudgmental environment at the first meeting when one mom confessed that she was afraid to be in a book club because she mispronounces characters' names and didn't want to be made fun of. Another mom only listened to the books on tape. And while one girl may have not liked Black Beauty enough to finish it, another girl read two versions.
Finally, I spent one afternoon a month as a volunteer at the school library. A working parent, I'm not a regular PTA'er, so being at the library showed how much I cared about books, loved literature, and especially loved my daughter.  
About the Author
Join children's literacy consultant Rachael Walker and many of the authors, parents, and educators she's met and worked with to talk about how books have changed their lives, how to bring books to life for young readers, and how to enrich kids' lives with good books. 
Publication Date
May 15, 2018