Thanks to Twitter, last month I noticed that some of my teacher friends were producing and sharing a lot of great writing. They'd joined the Slice of Life Story Challenge (opens in a new window) hosted by Two Writing Teachers (opens in a new window) and were posting interesting writing about everyday experiences.
I so enjoyed getting glimpses of their writing lives, I reached out to see if they would share more about why they write, how it influences their instruction, and what kind of good things can happen when teachers write. Happily, Cindy Chiu, Sally Donnelly, and Beth Sanderson agreed to answer three questions about their writing. Here we wrap up our series on the writing life of teachers and share some resources for all those teacher writers out there.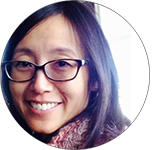 Cindy Chiu (opens in a new window) is a Reading Specialist and the ELA lead teacher at Swanson Middle School in Arlington, Virginia.  While she was teaching English overseas in Hong Kong and Beijing before applying to law school, a Chinese fortune teller told her she would become an educator instead.  Over 15 years in elementary and middle school settings later, Ms. Chiu is still teaching and loving it.  She describes herself as a teacher-reader-writer-mom who cannot live without books, tennis, and coffee.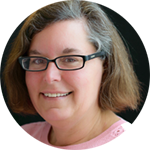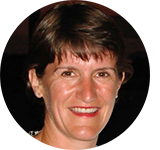 Question 3: What do you do to invest in yourself as a writer? How does your own writing support student writing/influence or guide your instruction?
Cindy Chiu
I invest in myself as a writer by honoring "me time," by feeding a goal-driven, competitive stomach delectable writing challenges, and by being brave enough to share my soul on a page to a community of peers and pupils alike. No matter how hectic the day-to-day can get, scheduling time for routine self-care has to be a top priority. For me, this includes weekly tennis to boost my body's endorphins, daily moments to read like a writer by immersing myself in others' artful storytelling, and the spontaneous green tea latte and hand-frosted sugar cookie run to fuel my writing angels. Me time also includes staring blankly out my bedroom skylight, embracing the zen of doing nothing. All these experiences allow me to reset and see the world with fresh eyes, which rejuvenate my home and school life.
Without a structure and deadlines, I often shy away from writing, just as I would not exercise if I didn't schedule tennis clinics and matches. So, I enter challenges such as NaNoWriMo (opens in a new window) and  Slice of Life Story Challenge (opens in a new window) to ensure I flex my writing muscles, and I invite my students to join me. "What's the prize?" they would ask, hungry for external motivation. "Self-satisfaction and the knowledge of a goal achieved," I would counter. Eye rolls and head shakes later, they sharpen pencils and power on screens to write, settling into a rhythm grounded by routine. However, the true reward comes in a form of instantly gratifying feedback from other writers, for when stories are shared and comments exchanged, a community is woven from raw, honest words breathed aloud and given wings in a dim-lit classroom stage.
Sally Donnelly
Recently, I was thinking about the word investment. Then I got to thinking, "Do I invest in myself as a writer?" I think I do. These three things come to mind.
1. Financially, I pay $800 to attend a one-week Summer Writing Institute (opens in a new window) at Teachers College Reading and Writing Project. I attended my first Writing Institute in 2009. Then I returned in 2010, 2011, 2013, 2014, 2015, and in 2017. With Lucy Calkins and her staff developers at the Reading and Writing Project, I immerse myself in the writing process for a week. I work on my writing craft. I am inspired by writers who come to give keynote speeches. Having the chance to learn from great literacy minds pushes me as a better writer. Though these nine years cost me a total of $7,200 (Yikes! Over time, it adds up — but I'm worth it!), I'm hoping to return again this coming August. I'm currently waitlisted but my fingers are crossed that I'll eventually be accepted, and I have another $800 ready to pay for the privilege! (and then it will be an even $8,000 investment!)
2. I invest my time, one afternoon a month, writing with my writing club. First it started during the summer. Three teachers who had a writing club invited me to join and we met once a week through the summer at a Starbucks. We sat and wrote for about 45 minutes. Then each read their writing aloud and the listeners gave a compliment and offered feedback. After about two hours, I'd head home. As summer ended, we decided to try to meet once a month through the school year, rotating at people's houses. It is an investment in time to carve out two hours, especially on a school day. However, for me the time is worth it to be amongst others who write. We all are very different writers but can all offer the listening ears of the stranger to the piece and provide feedback. This investment in time is priceless in my opinion!
3. I invest in my writing by buying and reading books, lots of books. I bet I spend just as much time reading as I do writing. So often, when I attend an author book signing, they will say during their speech to the audience that the one thing that makes them a good writer is that they are a good reader. I've heard it so often that it starts to sound cliché. However, I find, for myself, it is true. Now, as I read, I notice the craft moves of the author. Using a writer's lens, I read certain descriptions and think about how I might try out what they just did in my writing. I notice writing structures that I want to try. Buying books and spending time reading is another way I invest in myself as a writer!
Beth Sanderson
I am currently completing a second graduate degree. As a result, I spend one or more nights a week seeing the world through student eyes.
I feel my students' pain when assignments pile up or the timeline for task completion is short. What's more, I cringe when I do not have mentor texts to guide or inspire my work.
I have started to keep a list of reminders when I plan writing assignments. A few of my favorites include:
have a set of mentor texts ready to go
set up a padlet so students can crowdsource research
provide frequent opportunities for students to talk about the work
rather than whole

graphic organizers

(that can sometimes limit student creativity or hamstring writers), offer frames for part of the work (a thesis frame or an opening or closing)
create a list of potential student questions and answer them with a FAQ document
use exit tickets for students to privately raise concerns or ask for help
create resource folders with writing tools (lists of transition words, writing checklists)
Writing is hard. As a student, I stay up late working on papers. I am thankful for each and every tool my teachers provide to help me produce my best work.
Resources recommended by our teacher writers
Two Writing Teachers (opens in a new window)
This website is a mecca for writing teachers nationwide. During March, the site is filled with links to people who are blogging daily as part of the Slice of Life Challenge. Throughout the year, this website offers wonderful writing about craft, teaching and life.
Jen Serravallo's Writing Strategies Book (opens in a new window)
Jen is such a clear writer! This handbook is Sally's go-to for ideas on how to craft her own writing and teach writing.
TCRWP Units of Study for Teaching Writing (opens in a new window)
Sally relies on these resources as a writing teacher and uses their units to teach students how to write well. Thousands of teachers regard the Teachers College Reading and Writing Project (opens in a new window) as a continual source of professional renewal and education.
Nerdy Book Club (opens in a new window)
You can get an email every single day alerting you to a new post on the Nerdy Book Club website. Guest blog posts from authors, teachers, students and all kinds of readers offer different views of the kid/YA reading world. This rich resource is at turns funny, touching and empowering. Add your voice to the Nerdy Book community—Beth has!
Northern Virginia Writing Project (opens in a new window)
NVWP is an affiliated site of the National Writing Project (opens in a new window), the largest staff development project for teachers in the country.
Favorite writers to follow
Spoken word poets (Elizabeth Acevedo, Sarah Kay, Daniel Beatty and Kwame Alexander)
All of these spoken word poets have videos of their work online. Check out each author's sites for moments of heart-piercing brilliance. Even better, see them live if you can!
Sharon Creech (opens in a new window) — Taught Sally how to enjoy reading and writing poetry through her book Love That Dog (opens in a new window).
Kate DiCamillo (opens in a new window) — Beth frequently shares Kate DiCamillo's Facebook posts with her students. She can take a walk down the street and describe the scene with such spectacular clarity that not only can you see the setting, you can feel the breeze. Kate DiCamillo is so busy her posts are short but scroll back through her Facebook feed and you will find some lovely gems.
Ralph Fletcher (opens in a new window) — His book Walking Trees (opens in a new window) acts as a mentor text for Sally when she writes about my teaching.
Jacqueline Woodson (opens in a new window) — Powerful, giving, reflective, unflinching — all these words can describe Jacqueline Woodson, who is an inspiration to Sally. Her verse memoir, Brown Girl Dreaming, is on Beth's "top ten books of all time" list. Read her work, see her when she comes to town, follow her on Twitter/Instagram.
Kate Messner (opens in a new window) — Another prolific and giving author, Kate Messner's blog is filled with posts about travel, her take on issues of the world and her writing. When you read Kate's blog, you feel as if you have her journal in hand — sketches, notes and all. Kate also offers an online Summer Writers Camp (opens in a new window) for teachers.
Jason Reynolds (opens in a new window) — Visit Jason Reynold's blog and you will notice that the last post was in 2014. He is a very busy man these days. But, take some time to scroll through these older posts and you will see an intense artist burning bright before much of the world caught on.
Pernille Ripp (opens in a new window) — This woman is a fierce speaker. In addition, her writing life touches on a host of critical topics of today. As founder of the Global Read Aloud, Pernille brings people together around books. She is not afraid to speak her mind — a blessing for the rest of us!
About the Author
Join children's literacy consultant Rachael Walker and many of the authors, parents, and educators she's met and worked with to talk about how books have changed their lives, how to bring books to life for young readers, and how to enrich kids' lives with good books. 
Publication Date
April 30, 2018