In May 1997, a small reading task force at the National Education Association (NEA) came up with a big idea. "Let's create a day to celebrate reading," the group decided. "We hold pep rallies to get kids excited about football. We assemble to remember that Character Counts. Why don't we do something to get kids excited about reading? We'll call it 'Read Across America (opens in a new window)' and we'll celebrate it on March 2, Dr. Seuss's birthday." And so was born on March 2, 1998, the largest celebration of reading this country has ever seen.
Always a celebration of reading, in 2017, NEA's Read Across America shifted away from being a Seuss-centric March 2 event to its year-round focus on sharing books that celebrate our diverse nation of readers.
But March 2 is a still NEA's special day to call attention to the joys of reading! And to cheer the ongoing efforts of educators, parents, and other across the country working make sure every student can find and read age-appropriate books in their schools that reflect and respect who they are.
This year, NEA's Read Across America is further championing diverse books by launching NEA's Read Across America Diverse Book Challenge (opens in a new window). Educators, parents, students, and book lovers of all ages can join in by following these five easy steps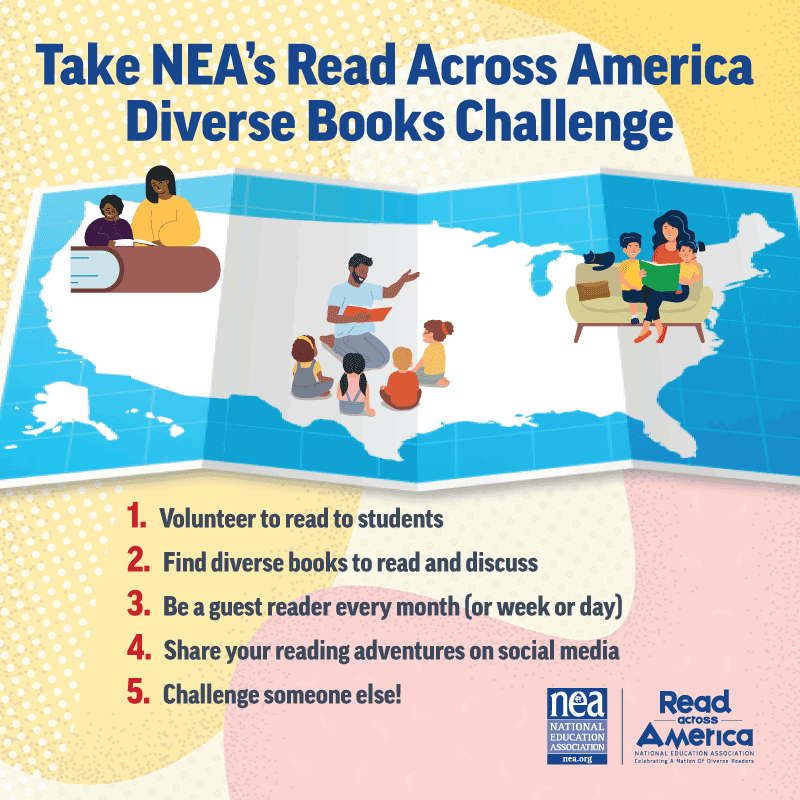 1. Volunteer to read to students
Go read to kids! Be a fresh voice in a classroom, library, or afterschool program as a guest reader (opens in a new window).
2. Find diverse books to share
Choose from monthly recommendations (opens in a new window) from NEA in the Read Across America digital calendar or search all of NEA's great recommendations (opens in a new window) and booklists (opens in a new window).
3. Read every month (or week or day)
Make a reading connection wherever you go. Read aloud and spark discussion with students of all ages or do activities related to the books you share. NEA has discussion questions and activity suggestions to help you get started.
4. Share on social media
Tell all of your friends and followers on social media about your reading adventures!
#ReadAcrossAmerica  #NEADiverseBookChallenge
5. Challenge someone else!
Encourage others to read aloud to kids and introduce students to a wide range of stories and voices that reflect all kinds of perspectives and experiences.
In celebrating reading and NEA's Read Across America for a quarter of a century, I've seen just how much it means to kids when people make time for them, for books, and for reading. I know that I'll be taking this challenge. I hope you will too!
Let's come together and work together to make reading diverse books with kids part of who we are as a nation and as readers. Let's Read Across America!
Resources
About the Author
Join children's literacy consultant Rachael Walker and many of the authors, parents, and educators she's met and worked with to talk about how books have changed their lives, how to bring books to life for young readers, and how to enrich kids' lives with good books. 
Publication Date
March 2, 2023