Context of writing
Written by a third grade girl in a Writer's Workshop style class where students had free choice of topics. This story was inspired by the Judy Blume book, The Pain and the Great One, which the teacher had read aloud to the class.
What is this child able to do as a writer?
Chooses a topic that she feels strongly about — her brother being a pain.
Experiments with some punctuation and emphasis to create a lively piece ('NO!' and 'uh!').
Uses interesting, precise words ('Whatever' and 'Midget').
Shows an awareness of a reader or audience with her opening sentence ('Welcome to my life were evey thing I do is wonrg').
Evidence of understanding contractions: I'm, don't.
Beginning to show understanding of a paragraph: the

main idea

is that her brother is a pain with a few supporting details.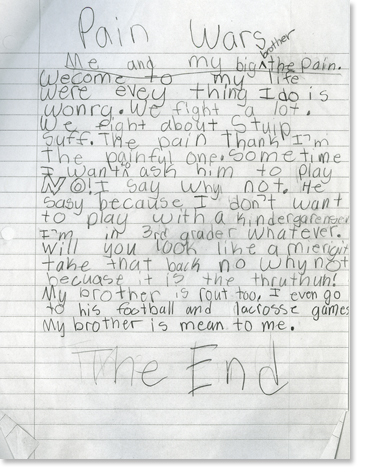 What does this child need to learn next?
This writer has a lot of ideas, but she needs make sure they make sense as she writes her story. She should be encouraged to reread and revise her piece to help her present her ideas in a clear way. Rereading can help identify information that needs to be added to help the reader understand the story. Other information may need to be deleted. Because the author includes dialogue in her writing, it may help if the author identified who was speaking each part. The teacher could also challenge the student to add a few transition words to improve the flow of the story.