Context of writing
A first grade girl wrote this story. After reading William Steig's Amos and Boris, students were prompted to write a story with an unlikely friendship between two animal characters.
What is this child able to do as a writer?
This child has generated ideas for characters and a problem for her story.
She uses some descriptive language: 'It was a masing!'
She has a clear separation between words and uses ending punctuation at the end of some of her sentences.
Spelling shows command of several

sight words

(got, lost, look, they, happy)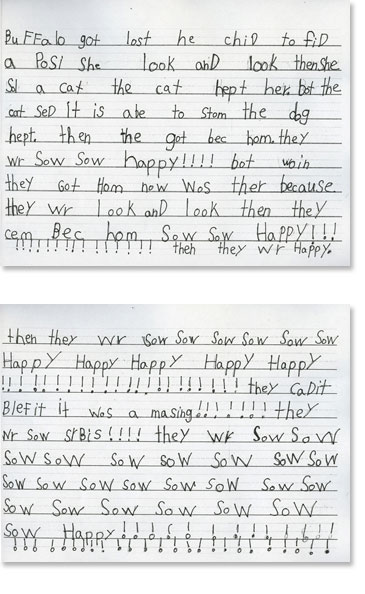 What does this child need to learn next?
This student seems to be trying to fill two pages with extra words and punctuation marks rather than write an effective ending to her story. She could benefit from a mini-lesson looking at mentor texts (opens in a new window) that show different ways that authors end their stories. The class could keep a chart with ideas of how to end a story. A common technique used by many authors is to state how the characters feel at the end of the story. This child may see that she has used that type of ending also (They were so happy. They couldn't believe it. It was amazing. They were so surprised.) She may also notice that authors do not fill pages with 'so so so so' or exclamation points. Re-reading her story aloud to a friend or teacher may also make the child realize that all of her repeated words and exclamation points distract from the story rather than add to it.
This writer would also benefit from more exposure to sight words including 'but, came, so, were.'