Boys often have to read books they don't really like. They don't get to choose what they want to read. And what they do like to read, people often tell them is not really reading.

Jon Scieszka 
Too many boys say they don't like reading, and they only read for school and not for fun and to build their own knowledge about people and the world around them. How can we encourage boys to read, help match kids with their interests, and nurture a reader's mindset?
Award-winning authors Gene Luen Yang, Jack Gantos, Jeff Kinney, Jarrett Krosoczka, and Jon Scieszka gathered at An Unlikely Story Bookstore & Cafe (opens in a new window) in Plainville, Massachusetts on October 5, 2017 for a lively panel discussion. Join them as they explore (with lots of humor, too) an important topic — How to Get and Keep Boys Reading.
This event, created especially for teachers, librarians, and parents, was moderated by children's literature expert Maria Salvadore. Mary Brigid Barrett, President of The National Children's Book and Literacy Alliance (NCBLA) (opens in a new window), a literacy organization for children, organized the event.
Celebrating Heroines in Fact and Fiction
Don't miss this other panel discussion with children's book creators. Join Jeannine Atkins, Heather Lang, Ekua Holmes, Katherine Paterson, and Rita Williams-Garcia for an insightful, spirited conversation! Watch video ›
Reading as a kid: interviews with the panelists
In one-on-one interviews before the panel discussion, we asked Jack Gantos, Jeff Kinney, Jarrett Krosoczka, Jon Scieszka, and Gene Yang to share some thoughts on how to get boys (and all reluctant readers) to read more — and to tell us what kind of readers they were as kids.
About the panelists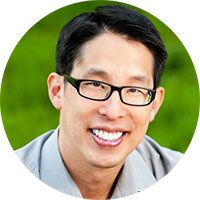 Gene Luen Yang
Gene Luen Yang began making comics and graphic novels in the fifth grade. In 2006, his book American Born Chinese was published by First Second Books. It became the first graphic novel to be nominated for a National Book Award and the first to win the American Library Association's Printz Award. It also won an Eisner Award for Best Graphic Album – New.
In 2013, First Second Books released Boxers & Saints, his two-volume graphic novel about the Boxer Rebellion. Boxers & Saints was nominated for a National Book Award and won the L.A. Times Book Prize. Gene has done a number of other comics, including Dark Horse Comics' continuation of the popular Nickelodeon cartoon Avatar: The Last Airbender and DC Comics' Superman.
In addition to cartooning, Gene teaches creative writing through Hamline University's MFA in Writing for Children and Young Adults.
In January 2016, the Library of Congress, Every Child A Reader, and the Children's Book Council appointed Gene Luen Yang as the National Ambassador for Young People's Literature. Join Gene for his Reading Without Walls video podcast, where he shares awesome interviews with children's book authors and other interesting people that he meets during his travels as ambassador.
Learn more about Gene and his work on his official website (opens in a new window). Watch our video interview with Gene Yang ›
---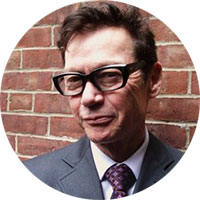 Jack Gantos
Jack Gantos has written books for readers of all ages, from picture books and middle-grade fiction to novels for young adults and adults. His works include Hole in My Life, a memoir that won the Michael L. Printz and Robert F. Sibert honors; Joey Pigza Swallowed the Key, a National Book Award Finalist; Joey Pigza Loses Control, a Newbery Honor book; and Dead End in Norvelt, the 2012 Newbery Medal Winner and the Scott O'Dell Award Winner for Best Historic Fiction.
While in college, Gantos and an illustrator friend, Nicole Rubel, began working on picture books. After a series of well-deserved rejections, they published their first book, Rotten Ralph, in 1976. It was a success and the beginning of Jack's career as a professional writer. This surprised a great many people who thought he was going to specialize in rehabilitating old bookmobiles into housing for retired librarians.
Jack continued to write children's books and began to teach courses in children's book writing and children's literature. He developed the master's degree program in children's book writing at Emerson College and the Vermont College M.F.A. program for children's book writers. He now devotes his time to writing books and educational speaking.
Learn more about Jack and his books on his official website (opens in a new window). Watch our video interview with Jack Gantos ›
---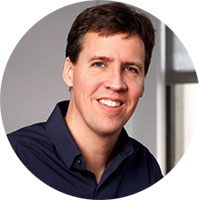 Jeff Kinney
Jeff Kinney didn't grow up wanting to be a children's author. His dream was to become a newspaper cartoonist, but he wasn't able to get his comic strips syndicated. In 1998 Jeff came up with the idea for Diary of a Wimpy Kid, a story about a middle-school weakling named Greg Heffley. Jeff worked on his book for almost eight years before showing it to a publisher in New York.
In 2006, Jeff signed a multi-book deal with publisher Harry N. Abrams, Inc. to turn Diary of a Wimpy Kid into a print series. The first Diary of a Wimpy Kid book was published in 2007 and became an instant bestseller. Just a year later, more than 100,000 copies were in print in the United States alone. With each subsequent book, in-print numbers continue to grow exponentially both in the U.S. and abroad. There are now more than 180 million copies of the series in print worldwide.
Jeff is also the creator of Poptropica, which was named one of Time magazine's 50 Best Websites. He spent his childhood in the Washington, D.C., area and moved to New England in 1995. Jeff lives with his wife and two sons in Massachusetts, where they own a bookstore, An Unlikely Story (opens in a new window).
Learn more about Jeff and his books on his Wimpy Kid website (opens in a new window). Watch our video interview with Jeff Kinney ›
---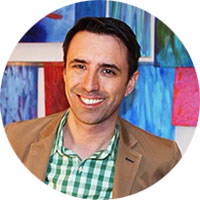 Jarrett J. Krosoczka
Jarrett J. Krosoczka, a New York Times bestselling author/illustrator, creates books with humor, heart, and a deep respect for his young readers — qualities that have made his titles perennial favorites on the bookshelves of homes, libraries, and bookstores.
First published at the age of twenty-three, Jarrett has more than thirty published books to his credit. Titles include several picture books, his wildly popular Lunch Lady graphic novels, and the Platypus Police Squad middle-grade novels. He also recently launched a new story arc in the Jedi Academy series with Star Wars™: Jedi Academy: A New Class.
Jarrett is a two-time winner of the Children's Choice Book Awards Third to Fourth Grade Book of the Year and has been a finalist for the prestigious Will Eisner Comic Industry Award. He has delivered two TED Talks, which have collectively accrued more than two million views online. Jarrett has been featured on NPR and can be heard weekly on The Book Report with JJK on SiriusXM's Kids Place Live, a show focusing on books, authors, and reading. His Punk Farm, Lunch Lady, and Platypus Police Squad series are all currently in development for film.
Jarrett lives in western Massachusetts with his wife and children, and their pugs, Ralph and Frank.
Learn more about Jarrett and his books on his official website (opens in a new window). Watch our video interview with Jarrett Krosoczka ›
---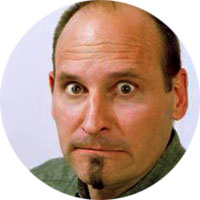 Jon Scieszka
Jon Scieszka is a bestselling author and the first National Ambassador for Young People's Literature, having been appointed in January 2008. The position was created by the Library of Congress to raise national awareness of the importance of young people's literature as it relates to lifelong literacy, education, and the development and betterment of the lives of young people. Born in Flint, Michigan, Jon Scieszka earned a bachelor's degree in writing from Albion College and a master of fine arts degree from Columbia University. He held a number of teaching positions in the first through eighth grades before taking a year off to develop ideas for children's books.
He is the author of many bestselling children's titles, including The Stinky Cheese Man and Other Fairly Stupid Tales (winner of a Caldecott Honor medal), The True Story of the Three Little Pigs, Math Curse, Robot Zot!, and the Time Warp Trio, a chapter book series. In addition, Scieszka is the founder of Guys Read, a nonprofit literacy organization. Jon lives in Brooklyn with his family.
Learn more about Jon and his work on his official website (opens in a new window). Watch our video interview with Jon Scieszka ›
---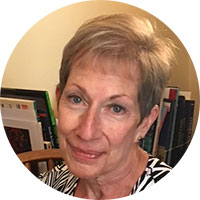 Maria Salvadore
Maria Salvadore has been involved with children's literature and literacy activities for her entire career. She has taught graduate and undergraduate courses in children's literature, reviews children's books for School Library Journal and other publications, and writes the Page by Page blog for Reading Rockets. Maria also serves as a workshop trainer for the PBS Ready To Learn initiative, and consults with local, regional, and national organizations.
Maria has been the Children's Services Coordinator for the Washington, D.C. Public Library and the Cambridge, Massachusetts Public Library. She has chaired or served on numerous committees including the Caldecott, Newbery, Boston Globe/Horn Book, Children's Book Guild Nonfiction Award, USBBY's Outstanding International Books, and the Notable Children's Book Committee, as well as other award juries.
About the National Children's Book and Literacy Alliance
Founded in 1997 by a motley crew of young people's authors and illustrators, The National Children's Book and Literacy Alliance (NCBLA) (opens in a new window) is a small, action-oriented education and advocacy organization whose core mission is to educate, inform, and advocate for young people, literacy, literature, and libraries.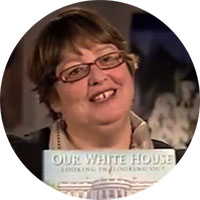 Mary Brigid Barrett
Mary Brigid Barrett is the founder, president, and executive director of NCBLA. Barrett is also a children's book author and illustrator and an educator. She taught children's book writing and illustration and professional practices for illustrators at The Rhode Island School of Design, is a guest lecturer at area colleges and universities, and conducts writing and illustration workshops for children and adults. Her most recent books are All Fall Down and Pat-A-Cake, illustrated by LeUyen Pham, and Shoebox Sam, illustrated by Frank Morrison. Both All Fall Down and Pat-A-Cake were named by Bank Street College to its 2015 Best Children's Books of the Year list.
To find out more about Mary Brigid's books and illustration work, visit her official website (opens in a new window). Watch our video interview with Mary Brigid Barrett ›
Discussion and activity guides
Check out these education resource guides, created by NCBLA, for each of the participating author's featured books. Each education guide includes discussion questions, activities, and links to more relevant resources.
Articles, videos, and blog posts from Reading Rockets
Finding the right books
Search our Book Finder tool to find books that can especially appeal to boys. The Book Finder database includes more than 5,000 high-quality titles for kids 0-12 years old. You can filter by:
Topic: Action and Adventure, Humor, Dinosaurs, Ghost Stories, Bugs and Snakes, etc.
Genre: Nonfiction, Mystery, Myths and Legends, Fantasy, Science Fiction, etc.
Format: Graphic Novel, Series, Beginning Chapter Book, Audio Book, etc.
Graphic Novels
Graphic novels: author interviews
More graphic novel and comic book resources
Graphic novels and comic books can appeal to even the most reluctant reader. Browse this collection compiled by NCBLA — links to articles, websites, and booklists to help teachers, librarians, parents, and other adults who live and work with young people make the most of graphic novels and comic books in the classroom or at home. See resources › (opens in a new window)