Getting students to watch what their minds are doing when they read helps them discover what good readers do. Educator Sally Donnelly calls this "spying on your reading." She learned how to spy on herself as a reader by reading Mosaic of Thought: Teaching Comprehension in Reader's Workshop (opens in a new window) by Ellin Keene and Susan Zimmermann and recently modeled this strategy for her own students.
Sally is a National Board Certified Teacher in Literacy and an avid reader of children's literature. She taught elementary school for 25 years in Diocese of Arlington, Fairfax County Public Schools, and Arlington Public Schools. Currently a 6th grade Reading teacher at Swanson Middle School in Arlington, Virginia, she's also a regular learner at Teachers College Reading and Writing Project (opens in a new window).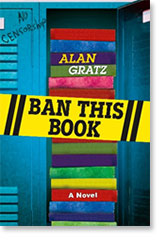 Author Alan Gratz recently visited my school promoting his newest book, Ban This Book (opens in a new window).
Before I left school with my autographed copy, I stopped at the supply table in the back of my classroom and took time to set myself up for reading this book AND recording my thinking about it.
I grabbed some post-it notes and added one to the last page of each chapter. Some of the chapters of this 243-page book are short, so many minutes did go by as I loaded my book with end-of-chapter note-taking space. But now the book was ready for my predictions and thoughts on character traits, characters' response to change, and author's craft. And as soon as I got home and heated up some dinner, I was ready, too, with pen in one hand and book in the other.
I sat and read the whole book! It IS a page turner and a fun school story about one of my favorite things—books! I found as I got to the end of each chapter—with that yellow post-it blankly staring at me—I had a thought about the book at that moment and I jotted it down quickly before beginning the next chapter.
I jotted character traits about the main and minor characters. I jotted down my predictions of what would happen next. I jotted that moment when the main character acted out of character. I jotted about times when I felt just like a character. I jotted about moves the author made to keep me reading.
It looked like this:

A couple of nights later, I removed all the post-its. As I did, I sorted them into piles. All the ones about Amy Anne in a pile. Another pile for Trey and a third for Trey's mom. I had a prediction pile and an author-craft pile. I had two favorite scenes, so I put those together. It looked like this:

During my many visits to Institutes at Teachers College Reading and Writing Project (opens in a new window), the staff developers have encouraged the use of a reading notebook (opens in a new window). Since the act of reading is so invisible, the notebook is the place to make one's thinking while reading visible to themselves and others. It is the place to hold onto thoughts, review them, grow them, revise them, and have them close at hand during a book club discussion or in front of you when a literary essay is being drafted.
As I looked over all the piles on my dining room table, I asked myself, what are the big ideas? I decided I had enough thinking to make two double-pages. One would be devoted to characters, their traits, my connections to them and times they acted out of character. It ended up looking like this: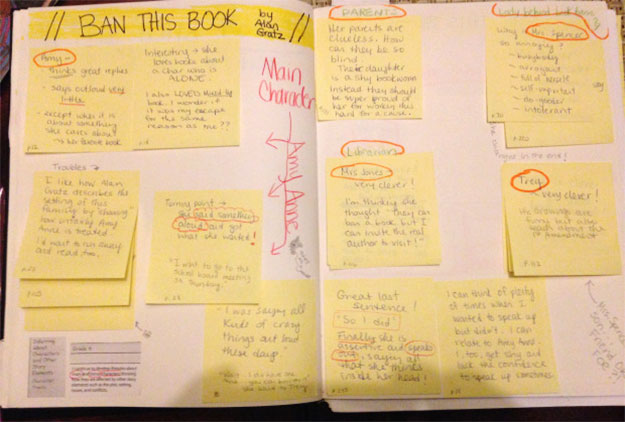 I then took the predictions I made, my author's craft notes, my two favorite scenes, and fun things I learned while reading this book and added them to look like this: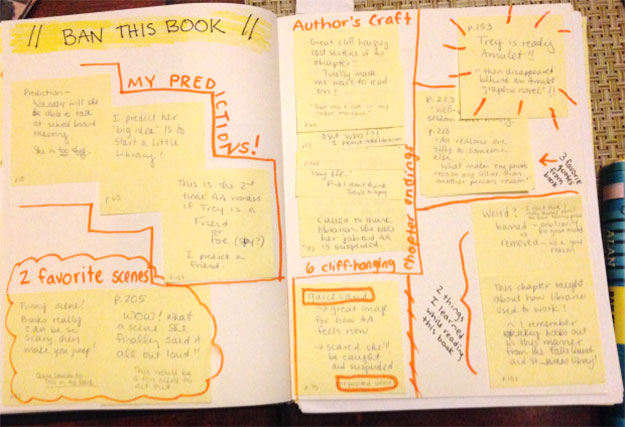 I can't wait to share this with my students and remind them about how when we read, we think. I'm excited to show them what my brain did while reading a book and offer them these strategies to make their own reading clearer and richer:
Set yourself up for success by having a book of your choice that you are motivated to read. (Meeting the author and having an autographed book is very motivating!)
Take the time to add post-it notes before reading so you'll be reminded to stop and jot. One way to make thinking visible is to stop and jot it down.
Sort your thinking. Post-its make it easy to sort thinking into piles.
Organize your thinking. Using sorted post-it notes helps organize thinking and transfer it into a reader's notebook. Add some color for fun!
Now, I am on the lookout for others who read this book thoughtfully. With my notebook in hand, I'm ready for a book club discussion. Or maybe I'll use these pages to write a literary essay. No matter what, I know I will have fun sharing my spying on my reading!
Resources
See these links for more information about the resources I used to help me do this work:
About the Author
Join children's literacy consultant Rachael Walker and many of the authors, parents, and educators she's met and worked with to talk about how books have changed their lives, how to bring books to life for young readers, and how to enrich kids' lives with good books. 
Publication Date
October 30, 2017