Remember Laura's first trip to Pepin? In Little House in the Big Woods, Wilder writes, "Laura stood up on the board and Pa held her safe by the arm, so she could see the town. When she saw it, she could hardly breathe. She knew how Yankee Doodle felt, when he could not see the town because there were so many houses."
It was dramatic for us too, but our drama was courtesy of the torrential rain that was coming down as we pulled into town. Pepin had been experiencing a lot of rain lately and we peered vainly out of the car windows to locate any potential beach along Lake Pepin where Laura and Mary might have gathered pebbles.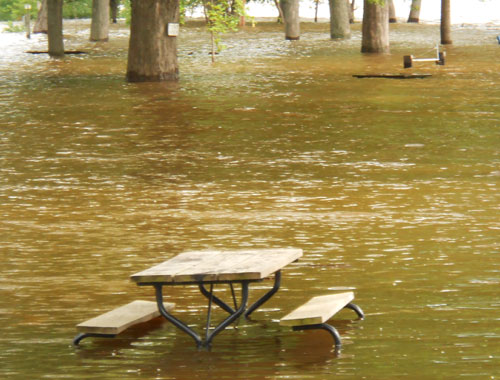 Most of the docks along the lake — which is actually the widest naturally occurring spot in the Mississippi River — were completely underwater. Without any beach and the continuing rain, we quickly concluded that there wouldn't be any pebble gathering for us on our trip to town. That opened up the whole afternoon for the Laura Ingalls Wilder Museum (opens in a new window) in Pepin.
We soon decided a much more appropriate name for this museum would be "Pepin's Attic." The museum, operated by the Laura Ingalls Wilder Memorial Society, is a jumble of artifacts spread across several rooms and purports to "feature many items Laura and her family would have recognized and recall the era in which she lived."
Unfortunately, the presentation of the many items that have been donated by Pepin residents and others do little to shed light on what life in Pepin was like during the time the Ingalls family lived there. Objects and information that might have been interesting or helpful in understanding life in the 1870s and Laura's real story were too few.
But rather than complain about the room full of period clothing with no information about what period it was from or signage like "Quilt donated by Roger McBride. It belonged to either Laura or her daughter Rose. He is not sure which one owned it," we thought we would offer you some suggestions and ideas for putting Little House in the Big Woods into context.
Something we all felt would have been helpful at the Pepin museum was a timeline that showed not only the Ingalls's time there, but also relevant American and local history. Here are just a few things we'd want to see on a timeline:
Avery: Laura and Mary don't go to school in Little House in the Big Woods. But when they lived in Pepin, they really did go to the Barry Corner School. Their teacher's dress was in the museum. When did they go to school there? What was school like then? What kinds of books were written then for kids to read?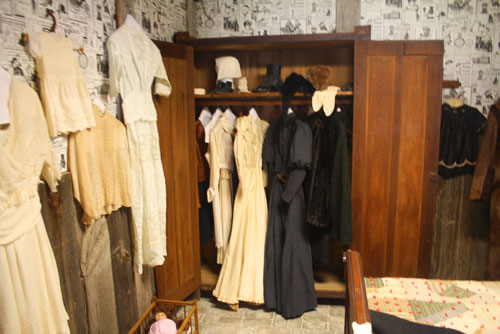 Breece: One room of the museum was filled with a model of a steamboat that you could climb aboard. There's no steamboat in the book, so what was the connection? Besides horses and wagons, how else were people getting around during this time? Did steamboats have anything to do with there being a town at Lake Pepin?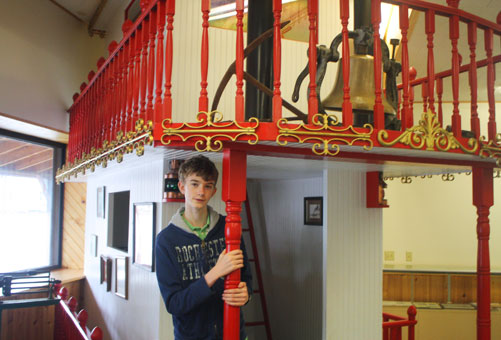 Janet: In Little House in the Big Woods, Wilder writes warmly of her extended family and the fun they have together. Many members of both Ma's and Pa's families lived nearby. When did they settle in Wisconsin? Who else in the clan was born here besides Laura? What other significant family milestones took place in Pepin?
Rachael: At the dance at Grandpa's, readers learn that Uncle George is home from the army. Laura was born in 1867, two years after the Civil War ended. Did George fight in the Civil War? Did any of Laura's other relatives fight? How did the Civil War affect Pepin residents?
Of course we could just look up answers to these questions, but answering all our questions together in a timeline will give us a much bigger and richer picture. Thanks to the Internet, a timeline is something that can be readily researched and completed as a family or classroom project. You can even collaborate, create and publish your timeline with resources like Timetoast (opens in a new window).
Younger readers might prefer more hands-on context, such as making paper dolls, sewing a nine-square quilt patch (opens in a new window), cooking a pancake man, making butter or even something as simple as helping you build a fire. We know we would have enjoyed hands-on activities in Pepin. Making a corncob doll right in the neighborhood where Laura played with her own "Susan" would have been lots of fun!
We'll be leaving Pepin behind now. There's not much in the way of accommodations here and we'd decided on the way here from Minneapolis that we'd be making a stop at the Stockholm Pie Company (opens in a new window). We'll let you know if their pie is as good as Ma's.
_____
Timeline Research
About the Author
Join children's literacy consultant Rachael Walker and many of the authors, parents, and educators she's met and worked with to talk about how books have changed their lives, how to bring books to life for young readers, and how to enrich kids' lives with good books. 
Publication Date
August 28, 2014