If we followed the Ingalls' journey according to the Little House series, after we left the Big Woods in Wisconsin, our next stop should be Independence, Kansas. Given that Independence is more than 600 miles from Pepin and Walnut Grove, Minnesota, is less than 200 miles, the banks of Plum Creek is where we headed next.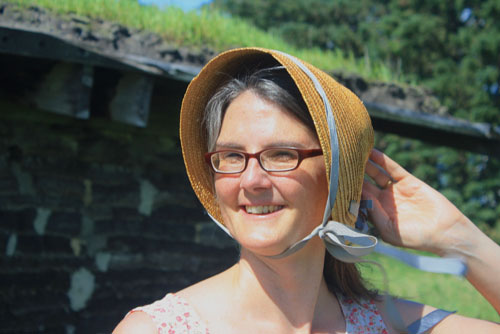 Our route took us through Mankato, Minnesota. Mankato is about midway between Pepin and Walnut Grove. Fans of the "Little House on the Prairie" television series may remember Mankato as the "big city" where Pa made deliveries. That isn't much of a Laura-Ingalls-Wilder reason to stop there, but there is a good reason to learn more about Mankato's history and how it figures into the Ingalls' journey, actions and attitudes.
On December 26, 1862, 38 Dakota men were hanged at Mankato for the slaying of hundreds of white settlers in what Mrs. Scott refers to as the "Minnesota massacres" in Little House on the Prairie. The U.S.-Dakota War of 1862 (opens in a new window) was five years before Laura Ingalls was born but had to have influenced how she and her family — especially her mother — felt about Native Americans. The conflict led to all the Dakota being removed from their land, which made it available to settlers like the Ingalls.
To learn more, we listened to "Little War on the Prairie" (opens in a new window) by This American Life as we drove to Mankato. In listening, we learned about the largest mass execution in American history, tried to understand the complexities of the treaty and reservation system and got a taste of Minnesota's multifaceted history. The ugliness of this history never appears in the Little House books. With Ma's remark, "Little pitchers have big ears" Wilder deemed this carnage unsuitable for a children's book — as she did for many of the real tragedies in her childhood. That didn't stop us from talking about it though and discussing why it is important to look at history through multiple perspectives.
There is definitely more we want to know about the Native American tribes and what happened in Minnesota that led up to the events of 1862. Since we don't have time (and we couldn't determine if it was still open), we're not planning to stop in New Ulm, Minnesota, where the Brown County Historical Society has a museum that explores the U.S.–Dakota War. Or get to visit the New Ulm home of Wanda Gág (opens in a new window), the author and illustrator of children's books, including Millions of Cats. Because Mankato offers another literary attraction: Maud Hart Lovelace, the author of the Betsy-Tacy series (opens in a new window).
We visited Betsy's and Tacy's lovely houses (opens in a new window), both beautifully restored to look as they did when Maud Hart and her best friend Bick lived in them during the turn of the 19th century. And we were lucky to visit during the "Deep Valley Homecoming," so our tour included costumed living history guides and activities from the books (opens in a new window). Avery got to make a bottle of colored sand just like those that Betsy and Tacy made and sold to their neighbors.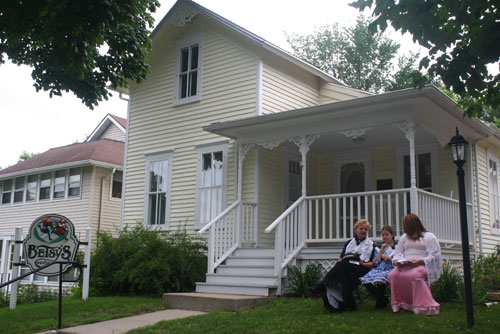 After all the new information and history we'd taken in during our time in Mankato, we were ready to play! Happily our next stop gave us the chance to do just that. Sod House on the Prairie (opens in a new window), about 20 miles east of Walnut Grove, was built by local farmer Stan McCone to show how folks used to live in the late 1800s. It was once used as a bed-and-breakfast, but the McCones tired of that and now let tourists come and explore the sod structures and the reclaimed prairie for a small admission.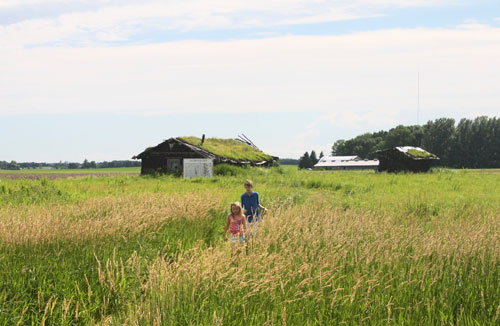 Since Breece actually admitted he had fun here, we'll let him tell it:
In social studies last year we did a unit on westward expansion and I learned about sod houses. At this place there was a sod house, made by stacking up blocks cut out of grass and dirt, and a dugout, which had some sod walls built around a big hole.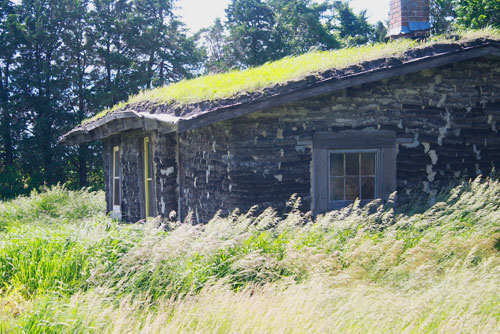 We were the only people visiting the sod houses. We went into the big sod house and it had a lot of stuff in it. Avery was excited that there was a wardrobe full of prairie clothes to dress up in. There was mostly bonnets and stuff for girls, but I found some things to try on too. Avery tried on just about everything, played with the dolls, pretend cooked in the kitchen and did pretend homework on the slate. Nama (Janet) and mom (Rachael) dressed up too.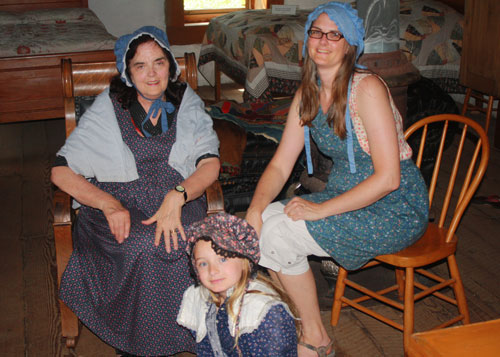 The dugout nearby was smaller. After we put the clothes away, we walked to it. It had a dirt floor and mud had built up so we couldn't get the door open all the way. Avery and I squeezed in and we got the door open. This house was very small and dark. It was not whitewashed inside like the big sod house, but it did have a loft. It also had a lot of bugs.
We only peeked in the outhouse and then walked to a very small wooden cabin. The sign said it was a hunter's cabin or something but that it was the actual dimensions of the dugout that the Ingalls lived in at Plum Creek. It was very tiny. It had a loft too and Avery and I climbed up. There were old timey toys up there and kittens! We didn't notice the kittens until they started to move! The kittens crawled outdoors from under the roof of the loft and looked like they wanted to climb down the rough wood walls. But whenever we went outside to help them, they went back in the loft. They were very cute.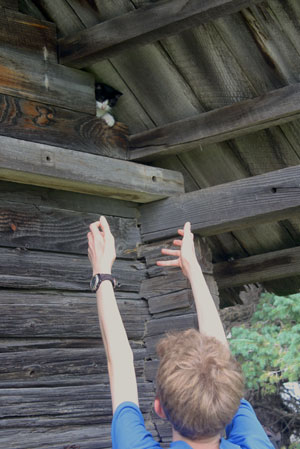 I couldn't believe when mom said we'd been there for more than two hours. When we left, we told the lady who owns the farm where the kittens were. She was glad to know because she hadn't seen them in awhile and thought they were hiding in her barn. I wish we could have taken them with us.
No kittens went with us and as we did spend a very long time enjoying the sod houses and the beautiful prairie, we didn't get to Walnut Grove with enough daylight to visit Plum Creek or start exploring the Laura Ingalls Wilder Museum there. In the meantime, Avery is wondering if it is possible to build a sod house for a Barbie® doll …
_____

Building Sod Houses
About the Author
Join children's literacy consultant Rachael Walker and many of the authors, parents, and educators she's met and worked with to talk about how books have changed their lives, how to bring books to life for young readers, and how to enrich kids' lives with good books. 
Publication Date
September 6, 2014