Typically, back-to-school night is big event on the school calendar. This opportunity for parents and teachers to meet and connect deserves special attention. We've gathered ideas and materials to help plan the evening, ideas to encourage attendance and participation, resources to share with parents, as well as materials to help parents make the most of back-to-school night and set the tone for a successful school year.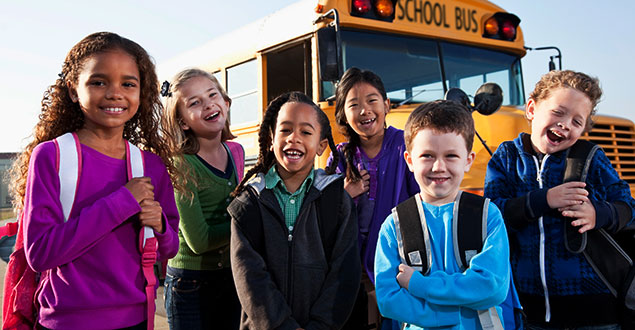 For teachers: planning your back-to-school night
What your child will learn
Create a one-page summary of what your students will learn this year in class, so parents have an overall picture of the school year and how everything fits into the standards. Remind parents to read and learn with their children every day to build literacy and background knowledge skills!
Meet our class
Represent the diversity of your school's ELL population and create a memorable back-to-school night display (opens in a new window).
Back-to-school welcome flyer
Download this ready-to-print welcome flyer from Reading Rockets. Each child can fill in their favorite book titles and things they like to read about. Perfect for desktops or bulletin boards to welcome families to the classroom.
Name tags
In preparation for back-to-school night, have students design original name tags for their parents, or use these name tags from children's author Jan Brett (opens in a new window).
For teachers: beyond back-to-school night
Working with parents
Learn how to build partnerships with your students' parents that last beyond back-to-school night. Browse these helpful articles:
Attendance: every school day matters
Everybody plays a role in ensuring children attend school regularly. Attendance Awareness Month is a nationwide event in September recognizing the connection between school attendance and academic achievement. The goal is to mobilize schools and communities not only to promote the value of good attendance but also to take concrete steps toward reducing chronic absence. Visit Attendance Works (opens in a new window) for community resources, including the Attendance Awareness Month Toolkit (opens in a new window).
Back to school for principals and school administrators
Dig into these back-to-school tips and resources (opens in a new window) on a wide range of topics, including preparing for the first day, taking a close look at your school's culture, and parent involvement strategies.
Reaching out to parents of ELLs
Some Hispanic parents feel apprehensive about getting involved because of limited English skills, lack of familiarity with mainstream culture and the public school system in the U.S, and other reasons. Discover ways to reach out to your bilingual families (opens in a new window).
Read about classroom-tested ideas on how to host a successful bilingual family night (opens in a new window) for families.
In the video below, you'll meet Meet Angelica Torres who was apprehensive at first about volunteering at her child's school. She loved it and now encourages other parents to get involved. (From our Launching Young Readers program, Becoming Bilingual)
Weekly classroom newsletter template
Parents love to know what's going on in their child's classroom, and a weekly newsletter is a great way to keep the communication going. Reading Rockets offers a ready-to-use, editable newsletter template complete with extra graphics and more than 50 reading tips.
Local literacy events and resources
Subscribe to the public library newsletter for story time hours and special children's programming such as el día de los niños
The Center for the Book at the Library of Congress publishes a calendar of book fairs by state.
Find out if your favorite children's authors will be on tour. Many children's book publishers list upcoming tours on their websites. Check out the websites and social media pages of your favorite uthors and illustrators, too!
Plan an author visit for your school. Many authors welcome invitations — check out their websites to learn more.
Great e-newsletters for teachers
Everyone is so busy that it's hard to keep up with all the good information out there for teachers. Here are some of the organizations that offer useful strategies, classroom resources, technology recommendations, and more. All are free, and just require a quick sign up.
For parents: back-to-school resources
Back-to-school night basics
Make the most of back-to-school night (opens in a new window). It's a valuable opportunity to learn important information about your child's classroom experience. (Also in Spanish)
Connect with your school counselor
As a parent, you know your child best. However, the school counselor can help you better understand your child as a student. Learn how you can collaborate effectively with the school counselor (opens in a new window) to ensure your child's academic and social success.
10 ways for parents to help teachers
Tip #1: Create a smooth takeoff each day. Give your child a hug before she ventures out the door and you head to work. Look her in the eye, and tell her how proud you are of her. Your child's self-confidence and security will help her do well both in school and in life. See all 10 tips (opens in a new window).
Tips for a positive partnership
The U.S. Education Department provides these tips for parents about how to be involved in your child's school, and what to do if problems arise.
Home-school collaboration for students with learning and attention issues
For students with with learning disabilities and ADHD, it is essential to have effective parent-teacher communication and ongoing collaboration. Browse the many articles in Working with Your Child's Teachers (opens in a new window), from our partner, Understood.
It takes a while for teachers to get to know their students. Parents, especially parents of special needs students, can help the process along by designing a dossier and discuss it at the first parent-teacher conference.
Reprints
You are welcome to print copies or republish materials for non-commercial use as long as credit is given to Reading Rockets and the author(s). For commercial use, please contact
[email protected]
.