Context of writing
A second grade girl wrote this story in response to a prompt to write about her winter vacation.
What is this child able to do as a writer?
She has learned the mechanics of grouping sentences into a paragraph. This student indents her paragraph with a symbol her teacher has taught her to use.
She experiments with using dialogue in her story ('I'am a hopp you ok she said to me').
She uses periods at the ends of some of her sentences and experiments with using a contraction with an apostrophe ('I'am').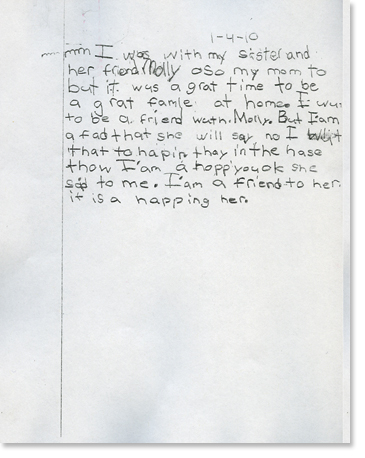 What does this child need to learn next?
This writer is unable to organize her thoughts and stick to one topic to write about. She begins talking about her family but then changes the subject to talking about wanting to be friends with Molly. She could benefit from a graphic organizer that helps her brainstorm all her ideas on one topic and sequence her ideas before she begins. Since this is a personal narrative and not a story with a problem and setting, a graphic organizer that lists events would be most appropriate. You might try this chain of events graphic organizer.
A personal narrative graphic organizer can be used with students to support their writing about one specific event.