Welcome Madelyn Rosenberg (opens in a new window) to Book Life! Madelyn is a mom, journalist, and the author of nine books for children. Her newest book, This Is Just a Test, with Wendy Wan-Long Shang, comes out on June 27.
Guest post by Madelyn Rosenberg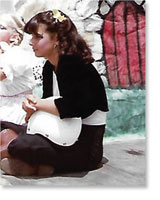 For my elementary school acting debut, I was a box of granola in a play about the food groups. I was a shy kid but I nailed the part, which mostly consisted of walking around stage dressed in a cardboard box and looking healthy. This led to a couple of other appearances on stage, as a motorcycle-riding Jill in a play that featured updated nursery rhymes, and as a fairy in A Midsummer Night's Dream. In a fit of high-school self consciousness, I stepped out of the limelight. I wish I hadn't.
I began to get comfortable on stage again a few years ago, when I took an improv class to prepare for school visits and the unpredictability that often accompanies them. I played aardvarks and kids and murderers and an elderly woman with permanent gas-face. I left the class with more confidence and returned to playing myself again — until this winter, when I went to the Midwinter Meeting of the American Library Association in Georgia.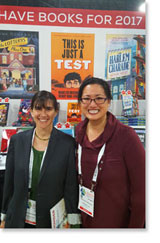 (Photo by Lizette
Serrano)
I was there to promote my upcoming book, This Is Just a Test, written with my friend Wendy Shang. And by promote, I mean I was there to perform in Scholastic's Reader's Theater, where they'd transformed a passage of our book into a script. And it wasn't just our book. The team at Scholastic created scripts for six manuscripts, to be read in front of a live audience.
I had three roles: the narrator in Natasha Tarpley's The Harlem Charade, the mom from Gordon Korman's Restart, and Granny M in This Is Just a Test (making me both a mother and grandmother in a span of 15 minutes).
Our audience consisted of about 250 enthusiastic librarians who laughed in all of the right places and who, I hope, understood more about each of our books when we brought them to life. That's something kids are bound to see in a classroom, too, when their teachers and librarians use Reader's Theater. (opens in a new window)
A number of teachers already embrace the format. My son's English teacher, for instance, just had her high school class read August Wilson's Fences aloud. Sometimes, she assigned parts to a few kids and they read for the class as a whole. Other times, they divided into groups of three, so that each of them had the chance to play a part. Fences is, of course, a play, so it was natural for the teacher to have the kids engage with the text this way.
Walter Dean Myers' Monster, a young adult "drama novel," was written in screenplay-format, so as with Fences, it needs no extra finessing to be used for Reader's Theater. Nor does Erica Perl's The Capybara Conspiracy, a middle-grade novel written in the form of a script.
"I wrote The Capybara Conspiracy as a play to gain better insights into my characters' motivations," Perl explains. "But I quickly realized that I was essentially creating a graphic novel without images. It has the same dialogue and pacing and allows kids the same ease of entry into the heart of the book."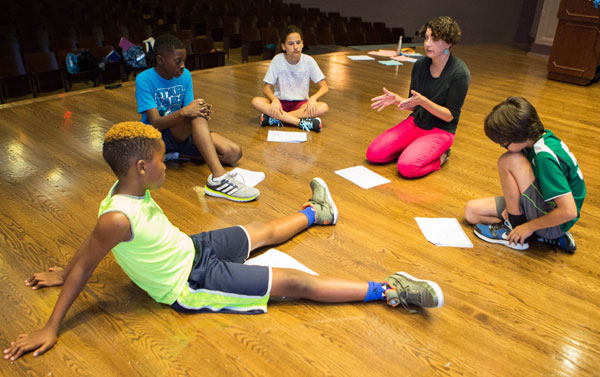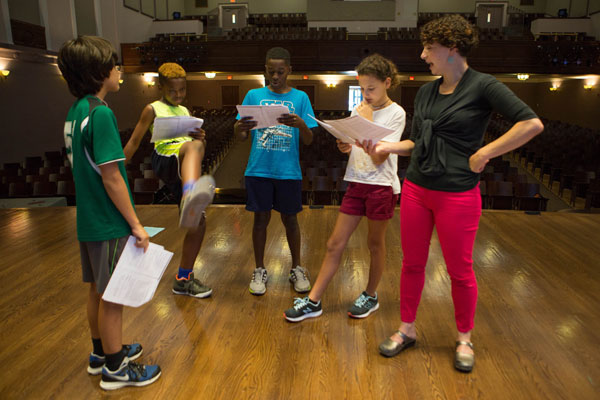 (Photos by Judy Licht)
Perl, who has used Reader's Theater on school visits, says it works well for a variety of learners. "Sure, your natural hams and other dramatic types will love it, but you'll find that it also works well for reluctant readers and kids who have limited patience for exposition."
Perl hasn't tried Reader's Theater with her traditional novels — yet. But as my post-granola theater career has taught me, scenes from traditional books — picture books, chapter books, and novels — can be modified for this format with a big payoff.
Reading and embodying an author's words add another layer to understanding literature. Studies have long highlighted the benefits of reading aloud, including an increased vocabulary and comprehension level. More recent studies have focused on how reading fiction builds empathy and improves brain connectivity. So it makes sense that when you combine all of that for Reader's Theater, it will only amplify those effects, along with honing public-speaking skills and building confidence. Reader's Theater also has the potential to up the emotional impact, whether the scenes are sad or funny.
When choosing your scene, remember to find a passage that uses a lot of dialogue. Create a role for a narrator. Don't be afraid to cast against type. And if you're working in small groups, let the kids switch roles. As long as they're trying on someone else's shoes, they may as well try on as many different pairs as possible.
Additional resources
About the Author
Join children's literacy consultant Rachael Walker and many of the authors, parents, and educators she's met and worked with to talk about how books have changed their lives, how to bring books to life for young readers, and how to enrich kids' lives with good books. 
Publication Date
March 23, 2017