Fast forward to 2017, and there are now nearly 60,000 Little Free Libraries worldwide, in all 50 states and 70 different countries, from Armenia and Iceland to Vietnam and Brazil. They stand in the tiny towns of Iowa and Idaho as well as the metropolises of New York and Los Angeles, and they welcome readers of all ages and backgrounds.
I first came to the Little Free Library concept as an editor at Utne Reader, then as the author of The Little Free Library Book (opens in a new window), and now as part of the Little Free Library nonprofit team. In talking with hundreds of Little Free Library owners, known as "stewards," I am continually impressed by the way Little Free Libraries can build community, spark creativity, and bring out the best in people. In addition, it's amazing to know that millions of books are exchanged in Little Free Libraries each year, profoundly increasing access to books for countless readers.
Kids are often the most enthusiastic users of Little Free Libraries. At my own Little Library in Minneapolis, I love to see the look of surprise on a child's face when they discover our neighborhood book box, and the excitement they show when finding a book to take home with them. I hear from many Little Free Library stewards that children's books are the first to fly off the shelves, especially in the summertime when kids have limited access to school libraries.
Kids are also some of the most enthusiastic participants in the Action Book Club (opens in a new window), a new initiative from Little Free Library that combines reading with positive service projects. We like to think of it as "good reads and good deeds."
Introducing the Action Book Club
The Action Book Club invites kids (or adults!) to get excited about reading and give back to their communities. Here's how it works:
"The strength of the Action Book Club is sharing our stories together," says Todd H. Bol, founder and executive director of Little Free Library. "It's the beautiful voice of books and community in action to make things better; it's showing we can make a difference. There are some 60,000 Little Free Libraries around the world — can you imagine 60,000 Action Book Club stories inspiring a ripple effect of good deeds?"
Our first Action Book Club theme, "Good Neighbors (opens in a new window)," led to a number of fantastic do-good projects. Here's a sample of some of my favorites:
An elementary school in Grand Coteau, Louisiana, read the book Last Stop on Market Street by Matt de la Peña then collected new socks for a local homeless shelter. "This was such a rewarding experience where we all had an important part of the 'action,'" says parent volunteer Alysson Foti Bourque. "All the kids worked together to help the community in need, and the shelters were so thankful for the kind gesture."
A third-grade classroom in Cleveland, Ohio, read the book Look Where We Live! A First Book of Community Building by Scot Ritchie and started a school recycling program. "After walking around the school, taking inventory, and asking questions, we noticed a lot of waste of resources in our school. We found out that our school does not have a recycling program," says teacher Robin Palmore. "We signed up at Pepsico Recycling and began to recycle water bottles. We set a goal for 15,000 bottles."
A mom and her two young sons, Harald and Theodore, of Bellingham, Washington, prove that an Action Book Club doesn't have to have a lot of members. The group of three read Last Stop on Market Street, then set up a lemonade stand that collected donations for their local aquarium. "I thought it would be fun, and it was!" says Harald. "I really like the aquarium. I might want to be a marine biologist when I grow up."
Another club in Ventura, California, read What's the Buzz, Honeybee? by Robin J. Smith, and gave away wildflower seeds to help restore bee populations. This group emphasizes that thinking small is a great way to start out. "You don't need a large group, and you don't need a huge project. Think of the 'butterfly effect' and how small changes can really help," Smith says.
Action Book Club Celebrates Diversity – Plus a Book Giveaway!
"Why are diverse books essential?" asks O'Brien. "Because our minds make associations based on what we feed them. We need authentic representations of ourselves in order to build healthy, resilient identities, and we need positive encounters with people whose experiences are different from ours in order to build empathy and connection. Diverse books can provide both."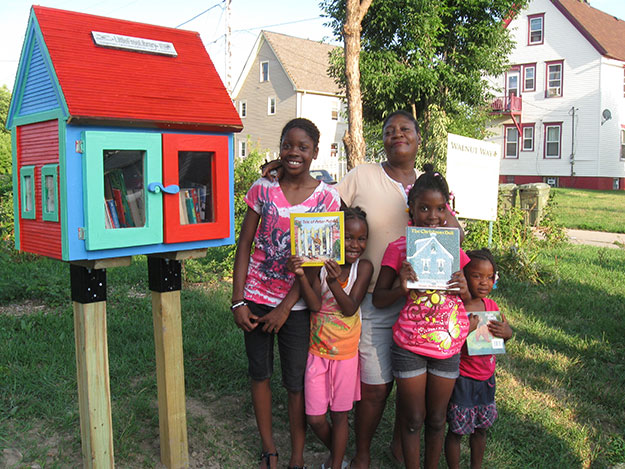 To kick off the new theme, we're providing free books from our recommended reading list (opens in a new window) to ten new groups that sign up to be Action Book Clubs. Signing up your group is easy — just fill out the simple form here (opens in a new window). Book winners will be chosen at random from sign-ups through July 15; limit ten copies per group. All groups that sign up will receive a welcome kit.
Be a part of the ripple effect of good deeds. Get your kids, family, or friends involved and join the Action Book Club today!
About the Author
Join children's literacy consultant Rachael Walker and many of the authors, parents, and educators she's met and worked with to talk about how books have changed their lives, how to bring books to life for young readers, and how to enrich kids' lives with good books. 
Publication Date
July 7, 2017