Introduction
A note is given to Mrs. Clark, Adam's first-grade teacher, stating that his parents will be traveling to Florida next week and plan to take him out of school so he can travel with them. How might Mrs. Clark react? Will she consider this a worrisome loss of instructional time, or an opportunity for relevant and authentic application of the skills and strategies she has been teaching? Teaching in a small, rural district for many years, I learned that when students have the opportunity to travel, they are afforded strong learning experiences I can't provide in my classroom. Although Adam will miss his teacher's instruction that week, perhaps Mrs. Clark will view this journey as an opportunity to expand the classroom beyond the school doors.
It is easy to see how traveling by any means — trains, planes, or automobiles — can help solidify a child's understanding of geography or social studies content. However, how can teachers use this experience to also enhance the literacy curriculum and document learning? Collecting print resources while traveling and using journal or diary writing to reflect on one's journey provides multiple learning opportunities to keep students reading and writing while absent from school. Activities such as these are supportive of the new Common Core State Standards (CCSS; National Governors Association Center for Best Practices & Council of Chief State School Officers, 2010) and allow meaningful assessment of all four literacy strands (Reading, Writing, Speaking & Listening, and Language).
An authentic experience
Literacy learning occurs best when experienced in a way that emulates real-life experiences (Duke, Purcell-Gates, Hall, Tower, 2006). Although undoubtedly complex, there is empirical evidence that students more effectively learn language and demonstrate increased growth in understanding and producing texts when they experience learning in an authentic context (Purcell-Gates, Duke, & Martineau, 2007).
Routman (2000) stated that when we allow students to share personal pieces of writing, such as postcards or letters, teachers help students recognize that writing is connected to the world we live in — it is not just an activity we do in school. Students then begin to realize the relevance of writing not as an assignment, but as a way to communicate thoughts and ideas. This concept is supported by the theory of situated learning that espouses learning as a social and collaborative process that can occur outside of school as well as inside the classroom (Brown, Collins, & Duguid, 1989).
The print students find outside their classrooms is increasingly rich and diverse. Norton and Norton (2011) stated that reading the stories of others, such as you would see in personal diaries or biographies, allows children to learn through the experiences of others and can empower them to write their own stories. The project described in this article requires students to explore printed materials they encounter when traveling and captures their adventures through the writing of personal narratives.
How students choose to record their stories may look different based on age, ability, and previous literacy instruction. Young children may choose to journal their adventure by drawing or dictating their stories or through labeling or invented spelling. Older children may document their journey in the form of a diary, a very popular writing style seen within their own school library in classic literature such as the Diary of Anne Frank. Perhaps they may choose to support their diary writing with graphics, as modeled by Jeff Kinney's Diary of a Wimpy Kid book series. As in Kinney's books, the use of graphic illustrations to support the text leads readers to greater comprehension and may prove to be an enjoyable way for student writers to share their ideas (Fingon, 2012).
The journal for the journey
The goal of this project is to provide meaningful application of reading, writing, listening, and speaking skills and strategies not only for the student who is embarking on a travel experience, but also for classmates who will be the audience for this completed project. When a teacher is informed about a student's impending absence, a brief conference is held with the student, parent, or both to explain the project and provide the necessary materials: a three-hole pocket folder with paper fasteners, colored pencils, a U.S. or world map, and paper (lined or unlined).
Figure 1 provides an example of a letter that can be placed inside the pocket folder providing clear expectations of the project. The child is asked to use the map to document where they are traveling on their journey, setting the context of the trip. Each day of the trip, the student writes and illustrates a summary of the day's adventures or shares in more detail an event or experience that occurred. The student is encouraged to collect additional resources relevant to what he or she experiences (brochures, boarding passes, post cards, menus, maps, photographs and videos, etc.) to help share the trip on return. These items are stored in the journal folder. On returning, the student takes on the role of teacher, sharing what he or she learned and experienced.
Figure 1: Parent Letter with Project Details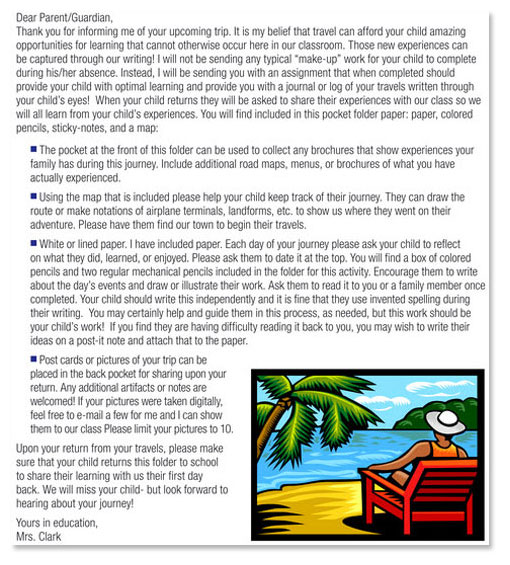 The journal in action
To get a better understanding of a typical journal, we can read about the travels of Tanner (age 7). He is going from Wisconsin to Missouri to visit his grandparents. His teacher explains to Tanner's mother that in lieu of the work he will be missing while he is gone, he will be completing an alternative project. His mother is given the letter with details of the project, and Tanner and his teacher conference briefly, clarifying the expectations for his journal. Tanner travels, writes, collects artifacts, reflects, and returns from his journey with his completed journal, as seen in Figure 2.
Figure 2: Example of Completed Journal of Tanner's Journey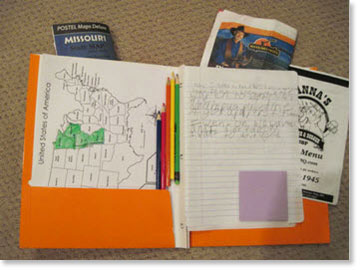 Once back from his travels, Tanner will review his journal with his teacher to prepare for his presentation. This conferencing helps his teacher assess his ability to monitor and self-correct errors he may have made in his writing, informing future instruction. Wise teachers are very selective in determining how to use classroom time and resources while delivering the required curriculum and teaching rigorous standards. The CCSS (National Governors Association Center for Best Practices & Council of Chief State School Officers, 2010) are designed to foster integration of literacy learning with authentic tasks, and a closer look at an excerpt from Tanner's journal, as seen in Figure 3 text, accompanied by his illustration (see Figure 4), demonstrates the explicit alignment this project has to these standards:
Figure 3: Example of Tanner's Journal Entry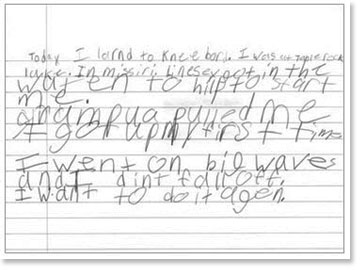 Figure 4: Tanner's Illustration of His Knee-Boarding Adventure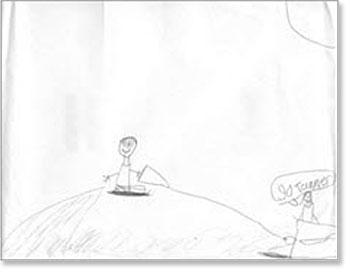 The conventional and invented spelling that Tanner uses provides an authentic way to assess his understanding of CCSS Reading Foundational Skills (CCSS RF.1.1 and RF.1.3). Tanner demonstrates his understanding of basic features of print by using capitalization and end punctuation. His writing shows his emerging understanding of phonics rules and patterns as he writes his thoughts down for others to read. Many common sight words, such as got, up, my, was, in, the, to, and me are correctly written, and he risks writing down what he hears when faced with difficult spelling patterns such as "agen" for again and "missiri" for Missouri.
Tanner showcases his ability to write an explanatory text that names a topic, supplies facts, and provides a sense of closure (CCSS W.1.2.) while he shares his first knee-boarding experience. His brief description of who was there, what happened, and the successful outcome of this adventure clearly communicates a sense of story.
When Tanner discusses this entry with his classmates, his teacher will assess additional curricular standards, such as his ability to respond to questions and suggestions from his classmates regarding how to improve his writing (CCSS W.1.5), as well his ability to address the research standard (CCSS W.1.8) requiring him to gather information from provided sources. He will use his collected sources (brochures, menus, etc.) to learn new facts and increase his ability to share details. In his journal, his map and brochure of the Silver Dollar City will allow him to show classmates what types of amusement park rides, demonstrations, and shows he attended. He will need to read the map key and illustrated text to do this.
anner has selected a special photograph to share, as seen in Figure 5, of large stalagmites and stalactites he saw while visiting a cave. This picture will support his narrative writing about his tram ride through a massive underground cavern. Interactions such as these serve to assess both Tanner and his peers, as they ask and he answers questions about key details; describes places, people, things, and events; and clarifies his thoughts and feelings (CCSS SL.1.4). Tanner's use of conventions (CCSS L.1. and CCSS L.1.2) will guide future instruction, as his teacher designs a minilesson on capitalization of the proper nouns, such as the name of a state.
Figure 5: Tanner's Photograph Supporting His Narrative Entry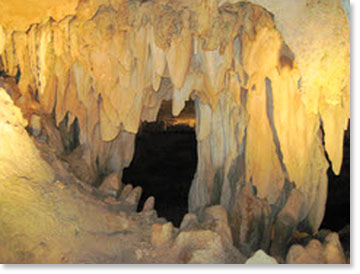 As Tanner shares his artifacts with his class, he will need to rely on the text features in his artifacts to locate key facts or information to share (CCSS RI.1.5). Allowing Tanner choice in what he writes about on his journey leads to greater ownership of this work and proves to be highly motivating for him. When students are able to relate what they write to their own lives and interests, they realize how new learning arises from everyday experiences (Immordino-Yang & Faeth, 2010).
For students older than Tanner, many of the same anchor standards apply. Through writing and sharing of personal journal narratives, a fifth-grade student would be able to address multiple curricular standards in the areas of reading, writing, speaking and listening, and language as well, as seen in Figure 6. CCSS such as the following could be taught and assessed:
Figure 6: Narrative Sample of Older Student (12 Years)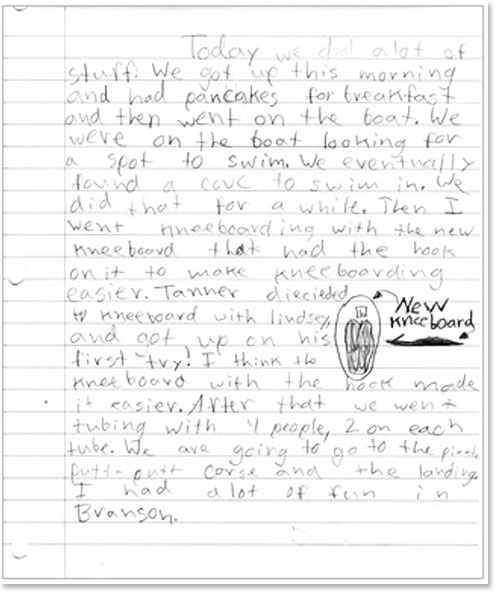 Traveling with students can provide optimal learning. Time spent "on the road" can be productive learning time as students reflect on what they are seeing and how they might like to share that with their peers back in their classroom. Increasing availability of the Internet and accessibility to mobile devices may provide opportunities for students to integrate technology within this project. However, as described here, this project is accessible to all students and requires minimal resources.
Although one child may travel, many can benefit from this project. Children who learn from the real stories of their classmates become curious about the world around them. Did you know it smells bad where the geyser, Old Faithful, erupts? Did you know that jellyfish swimming in the ocean look like a plastic bag floating in the water? Mrs. Clark's students learned that from the travel journals of other students in their class. Keeping children wondering about their world, experiencing new things, writing about them, sharing them, and generating new questions engages students in critical thinking and provides for authentic application of literacy skills and strategies. Literacy is definitely on the move; we just need to make sure to journal about the journey.
More to explore
Books
Boyer, C. (2012). National Geographic Kids Ultimate U.S. Road Trip Atlas. Washington DC: National Geographic.
DK Publishing (2011). Children's World Atlas. New York: Author.
McHugh, E. (2012). National Parks: A Kid's Guide to America's Parks, Monuments, and Landmarks. New York: Black Dog and Leventhal.
Websites
Biography
Laurie J. Curtis is an assistant professor at Kansas State University, Manhattan, KS. Contact e-mail: [email protected]
Citation
Curtis, L.J.. (January 2013). Literacy on the Move: A Journal for the Journey. The Reading Teacher, 66(5), 372-376.
Reprints
For any reprint requests, please contact the author or publisher listed.