A recent article from Edutopia suggested that we're rushing young children through childhood (opens in a new window).
I see it frequently when adults want their young children to read books that are too sophisticated (beyond the child's age) — both in terms of style and content. I am not suggesting that parents don't know their children best, but they may not appreciate the depth and scope of books for young children. Books with rich, dynamic illustrations rightfully should slow readers down. It may take more time to appreciate books like that, so why rush?
Picture books that have few words or are simply wordless are an example. I've seen these books dismissed out of hand simply because they don't have "enough words". While many young children have extensive vocabularies, it's easy to forget that illustrations tell stories worthy of many "readings." Children become narrators, adding or changing the story depending on what they see at a particular time.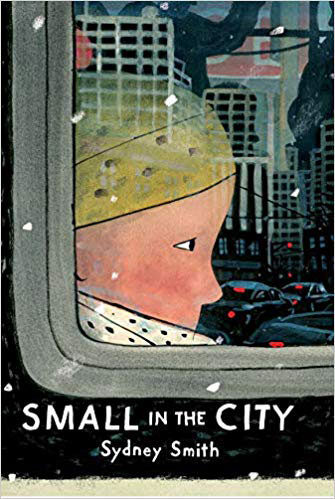 Small in the City (opens in a new window), a recent book by Sydney Smith (Neal Porter Books/Holiday House) is an example of how image tells a story with few words needed. Tension is created visually accompanied by a spare, almost lyrical text. But it is the illustration that packs the emotional punch. A child travels on a city bus, walks through crowded streets, lonely alleys and appears to be alone in the city. Is it the child who is small, or — never mentioned in words — could it be another much-loved creature?
Picture books — with or without words — expand readers' imaginations, build a sense of story, and even start conversations. There are easy ways to share wordless picture books, too.
I urge readers both young and experienced to slow down to examine, appreciate, and gain meaning from illustration.
About the Author
Reading Rockets' children's literature expert, Maria Salvadore, brings you into her world as she explores the best ways to use kids' books both inside — and outside — of the classroom.
Publication Date
September 25, 2019