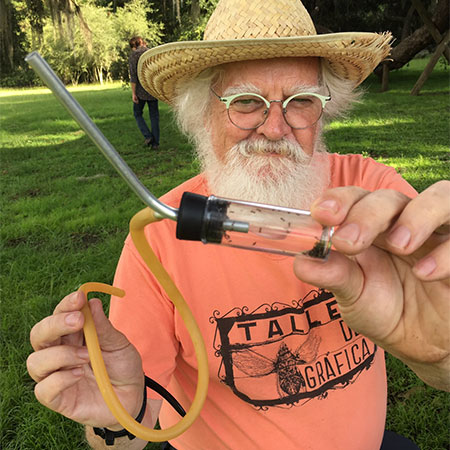 Kevin McCloskey delivers fascinating information in digestible, user-friendly formats, which appeal to not only young readers but experienced ones as well.
Sporting a white tie with black ants, I had the chance to speak with him again recently about his newest book, Ants Don't Wear Pants! (opens in a new window).
In his day job, author/illustrator Kevin is a professor of illustration at Kutztown University of Pennsylvania. He's currently touring for his newest book in the "Giggle and Learn" series from TOON Books. It is a worthy addition to Kevin's growing body of work.
The format of your books certainly relates to your teaching career, but how and why did you start writing science books for young readers? Is there science in your background?
My last biology class was in high school. I majored in art in college and grad school, but I realize I prefer the dioramas at New York City's Museum of Natural History to most of the framed artworks at the Metropolitan Museum.
What kind of research is required for each of your books?
It varies. For my worm book, We Dig Worms! (opens in a new window), I started with middle school books on worms and explored websites of state agricultural agencies. I also read Charles Darwin's worm book. For Something's Fishy (opens in a new window) I sketched at Orlando's Sea Life Aquarium. The place was filled with children and I took note of which fish grabbed their attention. I am often inspired by old natural history prints. For Ants Don't Wear Pants! (opens in a new window) I took a short course at University of Florida with Dr. Andrea Lucky, ant expert.
Which comes first, word or image?
Usually the image. Nobody but I can make sense of my original sketches. Next I add words and refine the sketches into understandable drawings.
Your latest book, Ants Don't Wear Pants!, is a fascinating look at these critters. I had no idea there were so many types of ants. How did you decide how to approach the subject and decide what information to include?
Françoise Mouly, the editor and art director at TOON Books, gave me a list of little creatures she thought might be good subjects. I'd considered fireflies and salamanders, but she suggested those creatures aren't well known to city kids. Ants are everywhere. As is my custom, I got so excited about ants that I drew way too many pages. Françoise is one of the world's great art directors and editors. She is really a collaborator and helps me pare back the pages to create good mix of the essential info and silliness.

You do lots of school visits. What do you learn from the children? In other words, does their feedback inform your work?
My university students are very talented, but also very distracted by their earbuds and iPhones and smart watches. It is so refreshing to work with young children who are still unplugged and naturally curious. They are eager to engage with real people.  And the love to talk about little creatures.
For example, last year at Takoma Park Md Library I met 4-year old Francie who knew more about ants than I did. She' d learned about exploding ants on a podcast, Worlds of Wow. I doubted what she told me. Turns out she was absolutely right, so I dedicated Ants Don't Wear Pants! book to Francie and the children who teach me things. It was a thrill to reconnect with Francie during my ant book tour.
There are two literacy organizations — Behind the Book in NYC and An Open Book Foundation in Washington, D.C. — that invite me to inner-city schools. I always make time for these kids who might not have a lot of books in their homes. I get so much good energy from enthusiastic learners.
Where did you develop your kid-friendly humor?
My wife, Patt, says I am childish by nature. We do go to PG films.
Your wife is a librarian. How has her work influenced yours?
My wife Patt worked for the Berks County (PA) Library as an itinerant preschool storyteller. She needed 3 books on the same topic for a story hour. She had two fine fiction books about worms. She asked me to create a picture book about worms that was funny but true. That's why I made the 32-page dummy book that eventually became We Dig Worms!
What do you think the format of your books can do that other, more traditional books can't?
Part of it is fashion. All TOON Books are written in comic book format. Comics are hip. Little kids see their older siblings reading graphic novels. I am convinced the comic book format is easier to read, even compared to traditional picture books. There is a unique visual and textual synergy. Word balloons eliminate the need for all the "she saids" and "he saids."  The comic format reduces the word count and children comprehend the page as a whole.
In Snails Are Just My

Speed

!, you've created very recognizable comparisons to demonstrate just how slow they are. How did you decide to use worms and pigeons (among other familiar animals)?
My editor and fact-checker on Snails Are Just My Speed! (opens in a new window), Richard Kutner, was extremely patient. I included a lot of my favorite little critters, like worms and pigeons. Trouble is much of the research on animal speeds has been done in Europe, so a snail, for example, travels at one meter per hour, while a pigeon can fly sixty miles an hour. So rather than mix feet, meters, miles, and kilometers, we did the math to figure how many times faster each creature is compared to a snail.

One of my personal favorites is The Real Poop on Pigeons!. What was the genesis of this book?
Years ago, I interviewed pigeon racers for a chapbook published by the Hoboken Historical Museum. They were unforgettable characters and told me amazing things about pigeons. That experience and plus a visit to the National Aviary in Pittsburgh informed The Real Poop on Pigeons! (opens in a new window).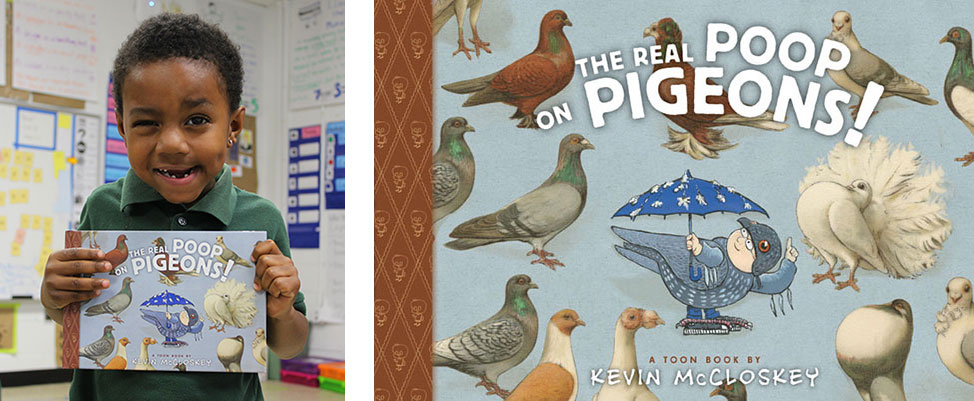 Something's Fishy is a slightly different approach. Tell us about it.
I approach every book differently. In Something's Fishy I wanted to emphasize the shear diversity of fish by introducing a fish for every letter of the alphabet. At schools I thought I might skip that alphabet and get right to the story, but children all want to know which fish begins with their own initial.
How do you come up such terrific titles for your books?
I don't deserve any credit for titles. Art Spiegelman, the cartoonist, is Françoise Mouly's husband. He came up with We Dig Worms!. My working title was If Worms Could Talk.
Next book, I thought Pigeons Are Fly was a good title; Françoise or Art came up with better title: The Real Poop on Pigeons! All my titles have been improved by the good folks at TOON Books.
What's next for Kevin McCloskey?
Bats! When I was at ant camp in Gainesville, Florida I went one night to watch the bats pour out of the bat houses over Lake Alice. Thousands of Brazilian free-tail bats rushed over my head. I said, "wow" out loud. Bats are amazing!
About the Author
Reading Rockets' children's literature expert, Maria Salvadore, brings you into her world as she explores the best ways to use kids' books both inside — and outside — of the classroom.
Publication Date
October 18, 2019