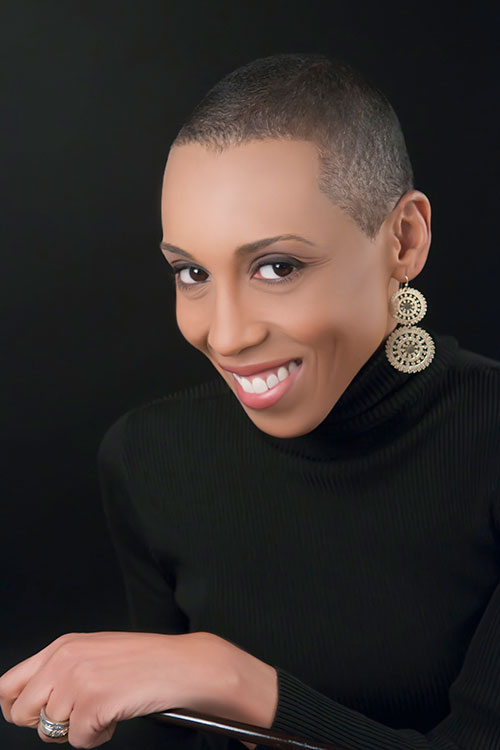 It's difficult to encapsulate the impact of Andrea Davis Pinkney on readers and in publishing for young readers. She is an award-winning author, accomplished editor, visionary publisher, and now the co-curator of a museum exhibition.
Young Andrea had trouble learning to read until she discovered a book that spoke to her. Andrea says she heard poetry, wordplay, and singing in a Dr. Seuss book.
Her path to becoming a reader and a writer was supported by parents and relatives. Her family provided her with tools for writing and filled her world with stories and experiences that led to an extraordinary career in children's literature.
It is a pleasure to have had the opportunity to have Andrea Davis Pinkney for this blog interview.
You've talked about learning to read later than most children. How did you overcome your reading difficulty?
I really struggled in school. I was the girl who hated round-robin reading sessions when each student had to take turns reading aloud from the same book. Ugh — the anxiety and humiliation! Fortunately, I had parents who didn't let me fall prey to what I now understand as "the myth of genius" — the false believe that struggling readers internalize, this idea that you need to be some kind of super-human to read well, or to fully enjoy literature.
Mom and Dad nurtured my interests in storytelling by encouraging me to put my ideas into notebooks, while not worrying about spelling or grammar. "Just write," was their prevailing wisdom. I was also reminded that looking at pictures in books was a form of reading. And that having someone read to you is also a powerful portal into the world of literature. At home, we'd take turns reading together, away from the gaze of my classmates.  In time, I grew more comfortable with words and their meanings, and began to seek out books that I could read on my own.
How did affinity for storytelling develop? How does it relate to what you described as the "fine Black line" in your 2014 Arbuthnot Lecture?
I come from a family of book lovers and storytellers. There was an unspoken code in our home. Which was, when you sat down at the dinner table, you'd better come prepared to tell a story about your day. It was all very low-pressure and fun. My dad was a master at it. He could turn the most mundane situation — waiting in line at the bank, grocery shopping, finding a parking space – into a colorful tale, filled with characters, dialogue, humor, and emotion. There were also stories about the legacy of Black people, our family's heritage, traditions, struggles, and triumphs.
My parents often related these stories to the continuum of Black history, reminding my sister, brother, and me that we were part of something bigger and eternal, dating back to before slavery began, coursing through centuries of grit and determination, up to the civil rights movement, to where we stand today. This is where "the fine Black line" idea comes in.
How have your early experiences led you to and influenced your work in children's books? 
Earlier in my career, I was a magazine editor at several publications, including Essence magazine, where I was a senior editor. Essence is the premier publication for Black women. I oversaw the Lifestyle department of the magazine, and was responsible for creating children's book roundups for Black families. This was the mid-1980s, when there was a dearth of books that featured African American characters and stories. Thank goodness for the works of authors like Patricia C. McKissack (opens in a new window), Walter Dean Myers, and Virginia Hamilton. Their books illuminated the children's literature landscape in countless ways.
But I still found it challenging to fill the magazine's Parenting section on a consistent basis with new books by Black authors. One of the gifts of working at a magazine, is that you become agile at brainstorming new ideas constantly, because you need to create a publication each month, and you need to think long-term about ideas that will relevant a year from now.
And so, since I was hard-pressed to find a robust selection of children's books to feature in the magazine, I started to make a list of what was needed. At the time, I was dating illustrator Brian Pinkney (who later became my husband). Brian was early in his career as a children's book illustrator, and was in touch with editors at several publishing houses. Soon into my tenure at Essence, our romantic nights on the town were spent by me shaking Brian by the shoulders, and saying, "Do me a favor! Call your editor at XYZ Major Publishing House, and tell her there need to be more books for babies featuring Black newborns. And we need a commercial middle grade series with Black protagonists. And let her know that I'm looking for picture book biographies, narrative nonfiction that kids want to read, and some high-interest chapter books!"
After a while, Brian got sick of me carrying on. One night, he playfully elbowed me, and said, "Hey, why don't you write some of these books? And while you're at it, you should think about becoming a children's book editor so that you can put some of your ideas into action!" That's when I knew I would marry this man. He was socking it to me in all the best ways!
You've written picture book biographies, poetry, narrative nonfiction, and novels, even creating new forms. Each book you're written introduces readers to people, places, and times that empower and enrich them. How do you decide on your subjects and the form of the writing?
It's interesting, I let each book tell me what it needs. I'm an early riser. I wake up at four in the morning, and get to work. Most days, I don't know what will come onto my computer screen. But something almost always emerges. It's like a song – you listen, and eventually follow to where its rhythm and melody lead. The writing process is like that for me. At the same time, though, I work hard at the craft of writing, shaping, revising, and refining my narratives. While it often starts out very loosely, I eventually get down to the nitty gritty of honing the voice, heart, soul, and shape of my stories. And because I'm the creator of nonfiction and historical fiction, there's a tremendous amount of research and fact-checking that goes into each book.
While writing is filled with exploration and discovery, I take it seriously. Even though I visit with hundreds of school children each year to share my books, and to listen to them talk about stories they like, I also know there are many readers that I'll never meet. I'm especially mindful of those kids. My job is to reach out a hand and make a connection through the power of story. That's why the craft-work is essential.
You often collaborate with your husband, also an award-winning illustrator and author. What's it like working with Brian and with his family — who are also children's literature icons?  
Brian and I have been collaborating for thirty years — on books, family life, household chores, and raising kids! Here we are, nearly sixty books later, and with some gray hair and under-eye circles to show for it. Working with the one you love can be a beautiful experience or a total disaster! Thankfully, we've developed some great strategies for making books while staying happily married. There have definitely been some swerves in the road. We've learned from those. We've developed some guidelines that have worked for decades of bookmaking as an author-artist team.
Brian and I have a weekly "meeting" each Saturday at our dining room table to review our projects, and to sit down together to talk about them. Before and after the meeting, we don't discuss work at all. We developed this plan when we realized we were chattering on and on about work all day and night, and on vacations and holidays. That's when our weekly dining room table sit-downs took on even greater importance.
We also abide by "the three C's" — Courtesy, Communication, Commitment. These simple words have been the key to our happy coupledom (another 'C' word). We feel blessed to be part of a family of children's book creators. Brian's mom and dad, Gloria and Jerry Pinkney, have collaborated on books for young readers for more than half a century! I refer to them as our "keep-love-alive role models."
You call your latest novel, Loretta Little Looks Back: Three Voices Go Tell It (Little Brown) is a moving, timely, particularly powerful in this moment. Tell us a bit about it.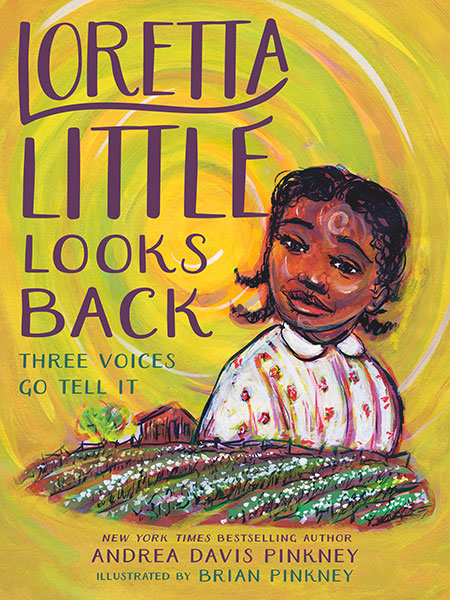 Brian and I loved working on this book together. It's an illustrated novel that tells the story of Loretta, Roly, and Aggie B., members of the Little family. Each presents the vivid story of their young lives, spanning three generations. Their separate stories — beginning in a sharecropping cotton field in 1927 and ending at the presidential election of 1968 — come together to create a single journey that gives readers a front-row seat to the dramatic events that lead to African Americans claiming the right to vote, and to so much ugly racism that Black people have endured and overcome.
The novel stems from my family tree. It's a very personal story. As a child, I spent summers on the porches of my relatives where I heard stories of how we, as a people, transcended bigotry and inequality. These stories ignited something in me – the true understanding that Black people are strong, resilient, resourceful, and smart.
Loretta is described as a "monologue novel."  How did you develop the form?
I spend every waking moment that I can in the theater. It's where characters are free to come alive, right before our eyes. We can experience their energy. This kind of emotional intensity is what I was going for in creating the members of the Little family. Their first-person narratives are a mix of spoken-word poems, folk myths, gospel rhythms and blues influences, all rolled up to tell one story. My hope is that readers will experience their grit, struggle, heartache and emotion — that young readers will get "behind the eyes" of the Little family kids who are living under the lash of racism, and rising above its grip.
The novel is presented in a series of theatrical monologues called "go-tell-its" that paint a portrait of America's struggle for civil rights as deeply felt by the kids who lived it. In some respects, I feel like the novel wrote itself. These characters just started talking to me in their raw, unvarnished vernacular that ended up on the page.
In addition to writing, you edit and publish books — and some of the most memorable ever published. (I immediately think of A Wreath for Emmett Till, one of the most moving books ever created.) How do your roles as writer, editor and publisher intersect?
Yes, I wear a few different hats — author, editor, and publisher. Like any wardrobe accessory, these "hats" are all completely different, worn at different times, and serve different purposes. As an early riser, I start writing while the moon is still in the sky, until six in the morning, when the sun starts to peek up over the horizon. By full daylight, the "writer hat" comes off, and I slip on the publisher/editor hats. It might seem strange, but the three don't really intersect. Writing is a solitary discipline that's very introspective. It's like trying to do psychotherapy on yourself, which, in the long run isn't possible (laughs!). That's why I need and depend on my editors – to help me see things I'm not capable of seeing. As an editor, I'm there for other writers. I hold the flashlight while they do the digging on their own psyches. My role is simply to point the light in one direction or another, and say, "What's under that rock?"
In 2005, while serving as the children's publisher at Houghton Mifflin Company, I published a book entitled A Wreath for Emmett Till (opens in a new window)by Marilyn Nelson. Marilyn has crafted a brilliant poetry cycle that illuminates the tragic death of 14-year-old Emmett Till. The book was so controversial when it was first published. As it turned out, it's served as a healing tool for so many, even after all these years. We still get letters from young readers and teachers expressing gratitude for the book that helps middle schoolers and high school kids understand and move through the harsh emotional impact of racial hatred. It's why the book is still so relevant today.
You and Brian (in collaboration with the Carle Museum) have curated an exhibition at the High Museum of Art in Atlanta. Tell us the focus of this exhibit. How did you decide which pieces to include? What do you hope the exhibition will achieve?
Picture the Dream: The Story of Civil Rights Through Children's Books (opens in a new window) has opened doors of creativity for Brian and me. The exhibition is the first of its kind to delve into the events, people and themes of the civil rights movement, both celebrated and forgotten. This is all done through one of the most compelling forms of visual expression, the children's picture book. There are nearly 80 artworks on view, ranging from paintings and prints to collages and drawings that evoke the power and continuing relevance of the era that shaped American history and continues to reverberate now. The year 2020 marks the anniversary of several key events from the civil rights movement. Sixty-five years ago, in 1955, Rosa Parks refused to give up her seat on a segregated Montgomery, Alabama bus. Five years later, Ruby Bridges integrated her New Orleans elementary school and four black students catalyzed the sit-in movement at the segregated Woolworth's lunch counter in Greensboro, North Carolina.
These actions and more are explored in the exhibition with titles by beloved children's book authors and artists, as well as talented newcomers. The exhibition emphasizes children's roles as activists and tells important stories about the movement's icons. With so much race consciousness in the minds and hearts of kids today, the show rings a loud bell of hope for the future. We need that bell more than ever!  
We do indeed. Thank you, Andrea for these insights! It will be exciting to read what you write, edit, and publish in the not too distant future!
About the Author
Reading Rockets' children's literature expert, Maria Salvadore, brings you into her world as she explores the best ways to use kids' books both inside — and outside — of the classroom.
Publication Date
September 15, 2020