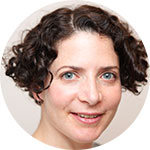 I write a series of books called Craftily Every After (under a pen name "Martha Maker" … now you know my secret!). They're adorably illustrated by Xindi Yan. These books are about four friends who all love to do crafts and other creative projects. So far, there are six books, each of which focuses on a new situation and craft project.
For example, in Book #1 (The Unfriendship Bracelet (opens in a new window)), Emily Adams and Maddie Wilson face a challenge to their close friendship: a new girl (Bella Diaz) joins their class. Bella and Maddie get so cozy that Emily fears she's been replaced. It turns out that there might be room in Emily and Maddie's lives for more friends — not just Bella, but Sam Sharma, a quiet boy in their class, too. And the perfect place for the friends to hang out is the old shack in Bella's backyard, which they convert to create a Crafting Clubhouse. Like every Craftily Ever After book, this one ends with a craft (friendship bracelets).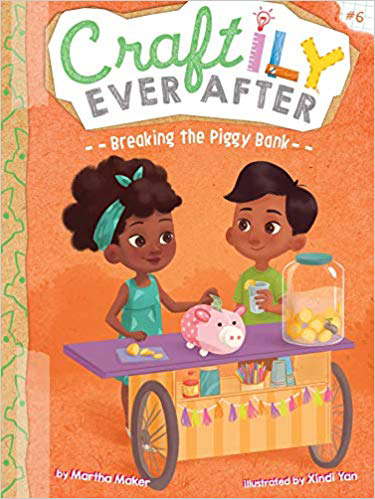 In book #6, Breaking the Piggy Bank (opens in a new window), the four friends decide to beat the heat with a lemonade stand. Because Bella's dad runs a restaurant, they get the idea of making and selling agua fresca instead of plain old lemonade. And when they meet a cool local DJ and learn of a community fundraiser for hurricane relief, they know just where some of their profits will go.
Running a lemonade or agua fresca stand — with appropriate adult help depending on the child's age — can be a lot of fun for young entrepreneurs. And it also provides opportunities to practice all sorts of skills: from reading recipes to making advertising signs to deciding what prices to set to making change to interacting with customers to setting up and cleaning up. And when the stand closes for the day, kids can make decisions about how to use their proceeds (perhaps using some or all charitably, like the kids in Breaking the Piggy Bank).
Here are some more books about lemonade stands:
And here's Bella Diaz's family's recipe for refreshing Strawberry Mint Agua Fresca:
(The recipe makes about two cups, and can be multiplied accordingly for larger quantities.)
Ingredients
1 cup fresh or frozen unsweetened strawberries (or other fresh summer fruit, like peaches or cut-up melon)
1 cup water
Half a lime, juiced
Sugar or honey to taste (start with a teaspoon or so … you can always add more! Ripe fruit is sometimes so sweet you don't need to add any sugar!)
½ cup fresh mint leaves (optional)
Instructions
Put all the ingredients in a blender, put the cap on, and blend well.
Taste and adjust the sweetness level gradually
Pour the mixture through a fine-mesh strainer into a glass pitcher or bowl (you can use the back of a wooden spoon or spatula to mash the chunky bits so more juice flows through).
Serve over ice, adding more water (or sparkling water!) if you prefer a lighter taste
Ahhh! Nothing's better than beating the heat with an icy treat and a super-cool BOOK!
About the Author
Join children's literacy consultant Rachael Walker and many of the authors, parents, and educators she's met and worked with to talk about how books have changed their lives, how to bring books to life for young readers, and how to enrich kids' lives with good books. 
Publication Date
July 31, 2019