This guest blog post was contributed by Marianne Celano, PhD, Marietta Collins, PhD, and Ann Hazzard, PhD, who have worked together for more than two decades as Emory University School of Medicine faculty members serving children and families in Atlanta. All three psychologists have been involved in community advocacy efforts focused on children's behavioral health and social justice. Dr. Celano and Dr. Hazzard have developed and utilized therapeutic stories in individual and group therapy with children and teens. All three authors valued story-time with their children, who taught them important lessons about what children need from adults. Something Happened in Our Town is their first picture book for children (opens in a new window).
What is this book about?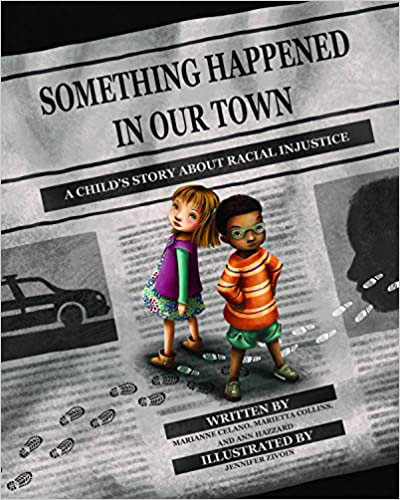 Emma and Josh heard that something happened in their town. A Black man was shot by the police.
Emma asks her mom, "Why did the police shoot that man?" Josh asks his mom, "Can police go to jail?"
Something Happened in Our Town follows two families — one White, one Black — as they discuss a police shooting of a Black man in their community. The story aims to answer children's questions about such traumatic events, and to help children identify and counter racial injustice in their own lives.
The book includes an extensive Note to Parents and Caregivers with guidelines for discussing race and racism with children, child-friendly definitions, and conversation guides.
Listen to the story
Hear authors, Marianne Celano, Marietta Collins, and Ann Hazzard read their book Something Happened in Our Town, aloud:
Read aloud tips for educators
Something Happened in Our Town is designed for 4- to 8-year-olds. It may be read by a parent or caregiver to a young child or by a teacher working with a group of children. These Read Aloud Tips for Educators (opens in a new window) provide guidance on creating a safe and inclusive environment for sharing the book as well as discussion prompts.
Additional resources
In this resource list (opens in a new window), the authors provide:
books for young children about resisting racial bias and advocating for civil rights, accepting oneself and valuing diversity
books about racial pride for children of diverse ethnicities
books about Africa
books about slavery
resources for multicultural families
anti-bullying books
resources about community violence
resources about racial injustice for older children
additional resources for parents and teacher

Originally posted on the Magination Press Family blog (opens in a new window).
About the Author
Join children's literacy consultant Rachael Walker and many of the authors, parents, and educators she's met and worked with to talk about how books have changed their lives, how to bring books to life for young readers, and how to enrich kids' lives with good books. 
Publication Date
July 26, 2020