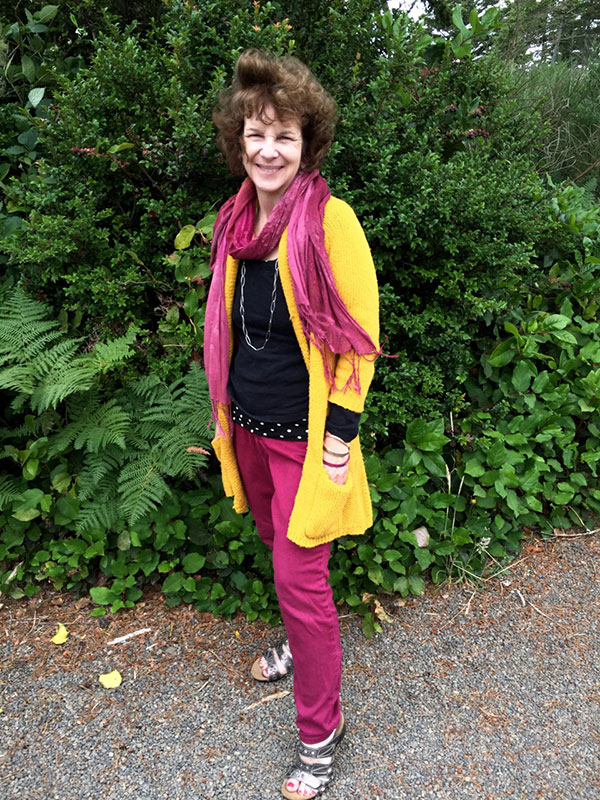 With the ongoing protests for racial justice and the coming election, many parents and educators I know have been talking with kids about voting, elections, and active citizenship. Kids have lots of questions about how our democracy works and that's just what we need — citizens who are critical thinkers, who ask a lot of questions, who listen to others with the goal of understanding, and who look for ways they can contribute to society.
Activism is a big theme in Our Democracy (opens in a new window), a new Start with a Book (opens in a new window) resource from Reading Rockets to help kids explore our government, voting and voting rights, and active citizenship through books and activities.
Two of the books included in Our Democracy are Deborah Hopkinson's recent Butterflies Belong Here: A Story of One Idea, Thirty Kids, and a World of Butterflies (opens in a new window) and her book written with Philippe Cousteau, Follow the Moon Home: A Tale of One Idea, Twenty Kids, and a Hundred Sea Turtles (opens in a new window). Both are powerful stories of kids engaging in community and environmental activism and show the difference young people can make in the world.
Another recent picture book by Deborah Hopkinson that's great for talking with kids about our democracy and active citizenry is Thanks to Frances Perkins, Fighter for Workers' Rights (opens in a new window). We're so happy to have Deborah Hopkinson share more with us about Frances Perkins (opens in a new window), her significant contributions to society, and how we — and Frances — can encourage kids to take action.
Deborah Hopkinson on her new picture book Thanks to Frances Perkins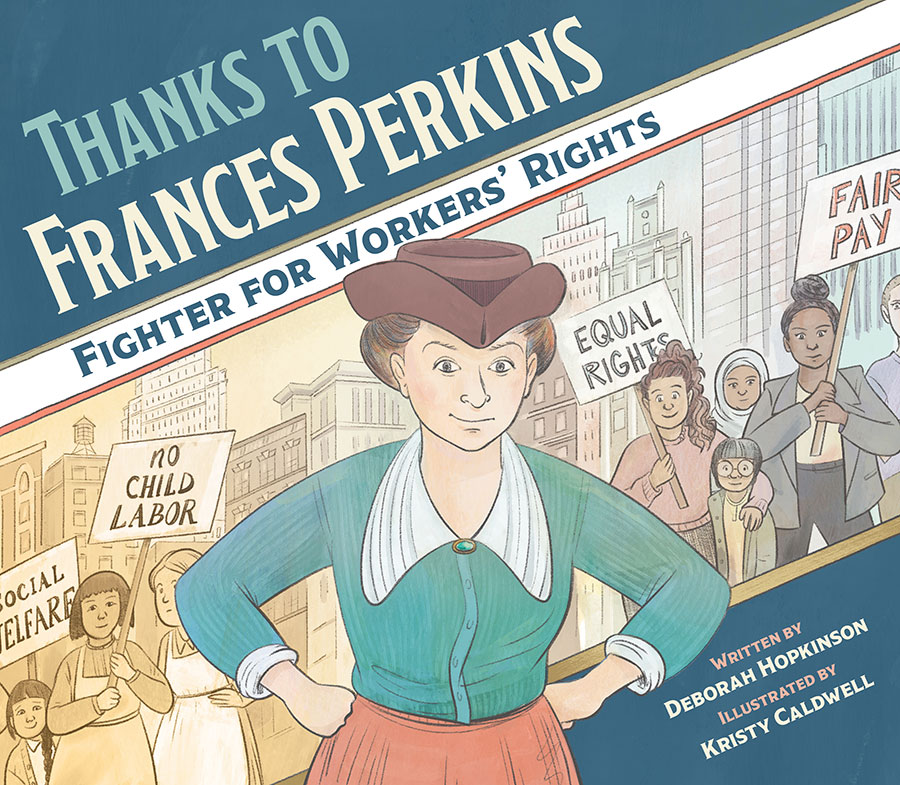 One of my favorite things about writing books about history is discovering connections — connections which sometimes lead to new stories. That's very much the case with my new nonfiction picture book, Thanks to Frances Perkins, Fighter for Workers' Rights, published by Peachtree with amazing illustrations by Kristy Caldwell.
At first glance, government officials may not seem particularly compelling subjects for picture books for young readers. But I've always been fascinated by the way events that happen to us when we're young sometimes shape and transform our lives.
Oscar Chapman, the subject of my book Sweet Land of Liberty (opens in a new window), was a member of the Roosevelt administration who was inspired by a childhood incident to help bring about Marian Anderson's 1939 concert at the Lincoln Memorial. One of Oscar's colleagues was Frances Perkins, and like him, she had an early experience that shaped her life's work.
Frances, the first woman and longest-serving Secretary of Labor, was born on April 10, 1880, in Massachusetts. Although I grew up in Lowell, where the Lowell mill girls played an integral role in America's early labor movement, I never learned about Frances Perkins in school.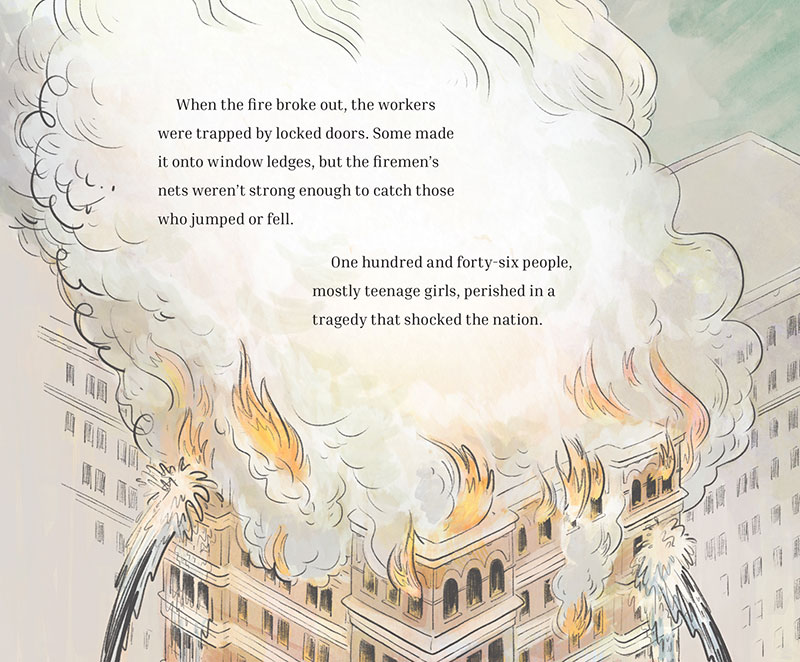 I first became interested in her life years later, while writing about the Triangle Waist Company fire (opens in a new window) of March 25, 1911.
In an oral history, Frances recalled that she was having tea with a friend in Washington Square when the fire broke out. She became a horrified eyewitness to the senseless deaths of one hundred and forty-six workers, mostly immigrant girls and women.
The event lifted the veil on unfair practices, such as locking factory doors so workers couldn't get out. There was an outpouring of grief and outrage, and demands for real change. Days later, Frances attended a memorial gathering to hear activist Rose Schneiderman speak.
Rose said, in part: "The strong hand of the law beats us back, when we rise, into the conditions that make life unbearable. I can't talk fellowship to you who are gathered here. Too much blood has been spilled. I know from my experience it is up to the working people to save themselves. The only way they can save themselves is by a strong working-class movement."
Frances took Rose Schneiderman's exhortation to heart. She worked with activists and union leaders to enact laws to improve working conditions in New York. Her career led to her partnership with Franklin D. Roosevelt, who in 1933 tapped her to become the first woman to serve in a presidential cabinet.
Frances wrote about that historic conversation. She knew FDR would ask her to join the administration, but made a half-hearted attempt to dissuade him. "I said that if I accepted the position of Secretary of Labor I should want to do a great deal….I thought that Roosevelt might consider it too ambitious to be undertaken when the United States was deep in depression and unemployment." Frances said she wanted to propose federal minimum wage laws, maximum hours, "true unemployment and old-age insurance, and abolition of child labor."
Frances brought that sweeping vision to her role as Secretary of Labor, taking on a pivotal role in crafting the New Deal, especially the Social Security Act, which celebrated its eighty-fifth anniversary on August 14, 2020.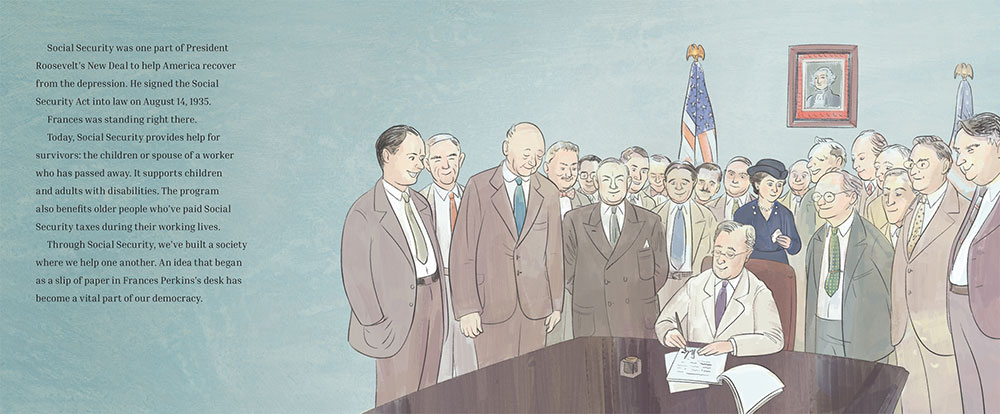 While Frances' life story is inspiring, I didn't want Thanks to Frances Perkins to be a standard picture book biography. Rather, I wanted to connect her life and accomplishments to children's real-life experiences. And so the book asks children to think of their own lives, while also touching on the goals of Social Security, and the concepts of planning and saving.
The connection to economic education came about thanks to Dr. Erin Yetter, one of the experts who vetted the book. Erin's input was helpful. We met several years ago when she worked in economic education outreach at the Federal Reserve Bank of St. Louis in Louisville. (For anyone who's interested, the Federal Reserve (opens in a new window) offers lesson plans and economics professional development for teachers. You can see one of their lesson plans on the Great Depression here (opens in a new window). 
These days, my visits with readers take place on Zoom. (opens in a new window) But I continue to be amazed by this generation of young people. They ask hard questions. They want to know, to understand.
Like Frances, they're thinking not just of what they will be when they grow up — but what they will do to tackle hard problems and help make their communities and their world more fair, just, and inclusive.
More about Deborah Hopkinson:
About the Author
Join children's literacy consultant Rachael Walker and many of the authors, parents, and educators she's met and worked with to talk about how books have changed their lives, how to bring books to life for young readers, and how to enrich kids' lives with good books. 
Publication Date
October 8, 2020