Welcome Colleen Dykema to Book Life! Colleen is an award-winning ESL teacher (opens in a new window) and reading specialist with Arlington Public Schools. Her teaching career began in 1972, and since 2000 she's worked with English language learners at Swanson Middle School. A great believer that "reading is our personal reward — our private space to grow and explore," Colleen had an "aha" moment this school year about reading graphic novels.
Guest Post by Colleen Dykema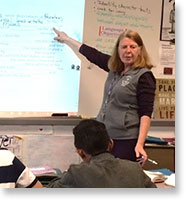 Until I came across Gene Luen Yang (opens in a new window), I was that old-fashioned "graphic novels? Not in my class!" teacher. I didn't mind students reading them on their own once in a while, but I never thought of teaching them and did not think that graphic novels really "counted" as independent reading.
How then did I get hooked? Gene Yang actually came to our school as a guest speaker and I introduced his writing to my students to prepare for the event. In the process, I became a graphic novel devotee. I learned that American Born Chinese gave an insightful fresh perspective on the experience of Asians in America. Boxers provides a look at the Boxer Rebellion in China and Level Up addresses the issue of finding a balance between parental expectations and dreams of a young person. Generational issues and culture are a focus. For me this said, "Graphic novels can have substance …. wow! Amazing!" I had no choice but to rethink my long-held resistance.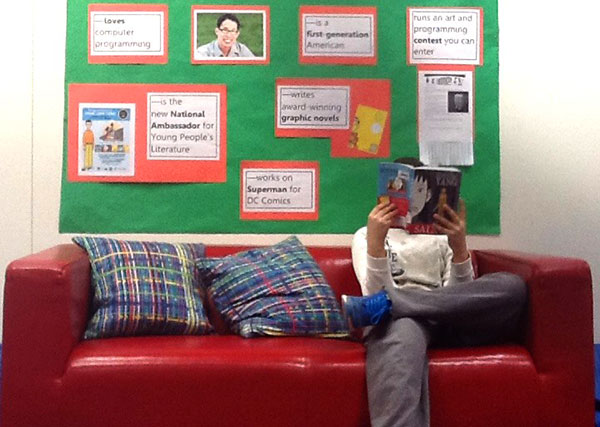 I teach middle school students, grades 6-8, WIDA (opens in a new window) levels 2-4. I started giving all my students warm up reading time with graphic novels a couple times a week. They loved it. You could hear a pin drop in my class—they were totally absorbed and "in the zone." I soon learned that there were many graphic novels that my students connected with. Here is a list, in random order, of the top ten graphic novels according to my students:
March trilogy by John Lewis and Andrew Aydin
Bird and Squirrel series by James Burk
El Deafo by Cece Bell
Drama by Raina Telgemeier
Ghost by Raina Telgemeier
Amulet series by Kazu Kibuishi
Level Up by Gene Luen Yang
Shadow Hero by Gene Luen Yang
Avatar series by Gene Luen Yang (and others)
City of Ember series adapted by Dallas Middaugh
I notice a pattern here. Just as in reading their more traditional counterparts, students enjoy getting to know characters in a series and following a plot line beyond the first book. Graphic novels simply allow students to do this with a visual component included. They allow students to move through a series at a more rapid pace. This then encourages additional reading, leaving the student with confidence, a sense of accomplishment and on their way to becoming fully engaged readers.
If you are just now coming around to graphic novels like I did, you may be wondering what that looks like in terms of classroom instruction. These are real stories that are valid for teaching literary elements. You will also be able to use graphic novels to teach inference, drawing conclusions, and identifying cause and effect relationships, and other organizational patterns, as well as teaching mood and tone. Basically, you can meet all the reading standards with this form of literature. Graphic novels are both a bridge to other genres and a valid literary source in their own right.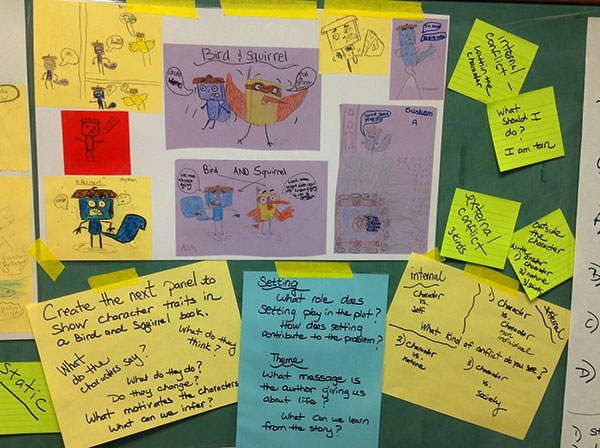 Here is a quick excerpt of some of the current Virginia standards, easily covered through the use of graphic novels. These standards correlate to Common Core standards as well.
6.5a, 7.5a: Identify the elements of narrative structure including character, setting, plot, conflict, and theme
6.5b, 7.5e: Make and confirm predictions
6.5d, 7.5k, 8.5k: Describe and Identify cause and effect relationships
6.5 g: Explain how character and plot development are used in a selection to support a central conflict or story line
8.5c: Explain how authors use characters, conflict, point of view, voice and tone to create meaning
6.5h, 7.5h, 8.5h: Identify the

main idea

8.5a: Explain the use of symbols and

figurative language

6.5f, 7.5g: Make inferences and draw conclusions
8.5b: Make inferences and draw conclusions based on explicit and implied information using evidence from text as support
Are you still thinking graphic novels are just glorified comic books? NO! They are so much more. Now that I know, there is no turning back. The March trilogy chronicles the civil rights struggle. Drama addresses the challenges of an LGBT teen. El Deafo gives the reader a deaf child's perspective on growing up "different." Maus shares the insights of a Jewish son about his relationship with his father, and what he learns from him about his suffering during WWII. Persepolis gives the reader a child's recollection of regime change in Iran. These books convey history and discuss important issues, building background knowledge and vocabulary. And they offer lots to talk about with discussion enlarged to cover the story and the images.
There is a wonderful Chinese expression, "embrace what you cannot change." I have moved from tolerating graphic novels to whole heartedly embracing them, and the joy of reading they convey. My curriculum and my students have been enriched. My students, even struggling readers, have become more fully engaged and independent readers as a result. I'm already planning the role graphic novels will play in my classroom next year — as anchor texts for whole class reading and discussion to small group reading and analysis to independent choice reading and book talks.
Let graphic novels into your classroom and watch the seeds they sow blossom.
About the Author
Join children's literacy consultant Rachael Walker and many of the authors, parents, and educators she's met and worked with to talk about how books have changed their lives, how to bring books to life for young readers, and how to enrich kids' lives with good books. 
Publication Date
June 1, 2017