"Graphic novels are the books with the tattered covers crowding the "hold" shelf and the books that generate the longest wait lists," according to Kyle Redford, a fifth grade teacher in Northern California and the education editor for the Yale Center for Dyslexia and Creativity.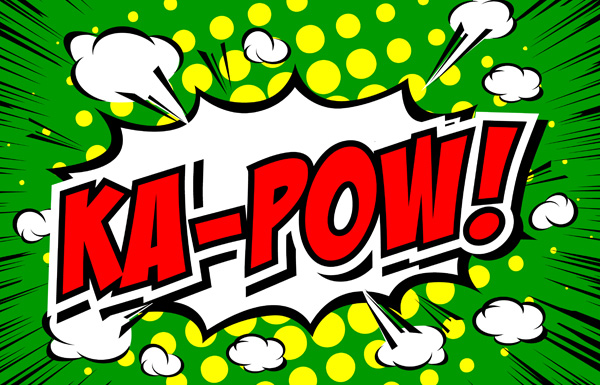 Books of this kind are growing in popularity and there are many options for readers of all ages, including students with dyslexia, she notes. She and her husband, documentary filmmaker James Redford, have a young adult child with dyslexia.
Grand equalizers
"In our fifth grade class library, graphic novels are the grand equalizers. They invite all levels of readers into reading conversations. Since everyone can read graphic novels, everyone can talk about them. And talk they do. I love to witness how graphic novels allow everyone in the class to develop a passionate reading identity," she writes on the Yale Center for Dyslexia and Creativity website (opens in a new window).
"The brilliant thing about the graphic novel is the way they offer dyslexic readers several different cues to the story. If a reader gets snagged on the vocabulary or storyline of a graphic novel, illustrated pages offer contextual cues to help decipher meaning. But don't be fooled; strong readers love the graphic novel as well."
Improbable superheroes, Greek mythology, and Shakespeare
Kyle's students enjoy graphic novels by many authors — "from the improbable stories about superhero animals to stories that explore Greek mythology or Shakespeare." The limited text and rich images aid comprehension. As a result, students who might have stayed quiet, instead, contribute to class discussions, she says.
"The graphic novel's easy-to-read accessible format allows struggling readers into the world of classic literary references that would otherwise be accessible only to stronger readers. Graphic novels are a wonderful way to help dyslexic readers strengthen their vocabulary, build their reading confidence, and foster a love of story. Who can argue with that?"
Graphic novels in alternative formats
Students with disabilities who are found eligible because traditional print is a barrier to learning have a way to read graphic novels as audiobooks, or in other formats (opens in a new window). Bookshare (opens in a new window) and Learning Ally (opens in a new window) convert printed books for these students who have identified learning disabilities, including dyslexia, or physical and vision impairments as well as other disabilities like autism.
Kyle's favorites
Here is a list of Kyle's favorite books or series. Her informal descriptions follow each title.
Percy Jackson & the Olympians series (graphic novel version) by Rick Riordan: With a dyslexic hero and accessible graphic format, this version of the Percy Jackson series is a sure hit among middle graders. (Grades 5-9)
El Deafo by Cece Bell: This autobiographical graphic novel has been a huge hit in my 5th grade class. It passed through a dozen hands in its first week. El Deafo is a story about a girl with hearing loss who has to navigate middle school with a hearing aid which gives her new ability to hear…lots of things.
Fangbone series, by Michael Rex:This comic series is a perfect choice for 2nd to 4th graders who like stories with lots of humor. 
Comics Squad: Recess! A graphic novel anthology, edited by Jennifer Holm & Matthew Holm: This is a graphic-novel anthology with contributions by many of the favorite authors of that genre, including Dav Pilkey, Jennifer and Matthew Holm, and Raina Telgemeir. This collection of stories is all about most kids' favorite part of the school day — recess. (Ages 7-10)
Jane, the Fox and Me by Fanny Britt, illustrated by Isabelle Arsenault: A gorgeous, poetic graphic novel about a young girl who is cruelly teased and finds refuge in Charlotte Bronte's, Jane Eyre. (Grades 5 and up)
Sisters by Raina Telgemeier: The companion book to Telgemeier's popular book, Smile.
Smile by Raina Telgemeier: Smile is a graphic novel geared for young people in grades 3 to 7. 
Drama by Raina Telgemeier: This title is from the same author as Smile, but geared for a slightly older audience — grades 5–9.
The Odyssey by Gareth Hinds: This well-worn book is in constant circulation in our class. The graphic novel format offers the entire class equal access to this classic Greek myth, yielding the question: "I've read the Odyssey, have you?"  My fifth graders love this book, but the recommended grades are 7th-12th.
Romeo and Juliet by Gareth Hinds: This YA graphic novel will be enjoyed by young people in grades 7 and up.
Amulet series by Kazu Kibuishi: This graphic novel series about the adventures of a brother and sister duo — Emily and Navin — as they travel to new, strange worlds to save those they love. (Grades 3-7)
Babymouse series by Jennifer Holm and Matthew Holm: Even though their covers are pink, and the protagonist female, boys fall for Babymouse also.
Squish by Jennifer Holm and Matthew Holm: He's a comic book-loving, twinkie-eating grade school amoeba trying to find his place in the world (or at least trying to make it through a school day.
Bone series by Jeff Smith: The Bone series is geared toward grades 3 and up. These stories follow the adventures of the Bone cousins that ensue after Fone Bone, Phoney Bone and Smiley Bone are run out of Boneville. They get separated and lost in a vast uncharted desert and eventually find their way into a forested valley where they encounter many magical creatures. Creator Jeff Smith was inspired to learn to read by the Peanuts comic strip, and now does the same for many young readers of today with his own books.
Lunch Lady series by Jarrett J. Krosoczka: A humorous graphic novel series for young people in grades 3–7
Olympians series by George O'Connor: This graphic novel series is great for young people in grades 4-9. Each book in this ultra-popular graphic novel series features a different Greek god or goddess, and will become an obsession for the Greek mythology fans in every classroom. And maybe even make some new ones…
Rapunzel's Revenge by Shannon Hale, Dean Hale, and Nathan Hale: A funny retelling of the classic tale done in graphic-novel format. Boys do like it, even though they resist it at first.
Young adult books 
The following are powerful coming of age stories that Kyle says are assigned reading in for middle school students in grades 7 and up and "no one is complaining."
American Born Chinese by Gene Luen Yang: This graphic novel captures the new-kid-in-school perspective from the eyes of Jin Wang, the only Chinese-American student in school.
The Absolutely True Diary of a Part-Time Indian by Sherman Alexie: Simple cartoons help tell the story of Arnold Spirit, a 14-year-old Indian, who has not had an easy life.  Using his humor and sharp observation, Arnold grapples with his own ambitions, his Indian identity and the world around him.
Publication Date
October 13, 2016