Explore money!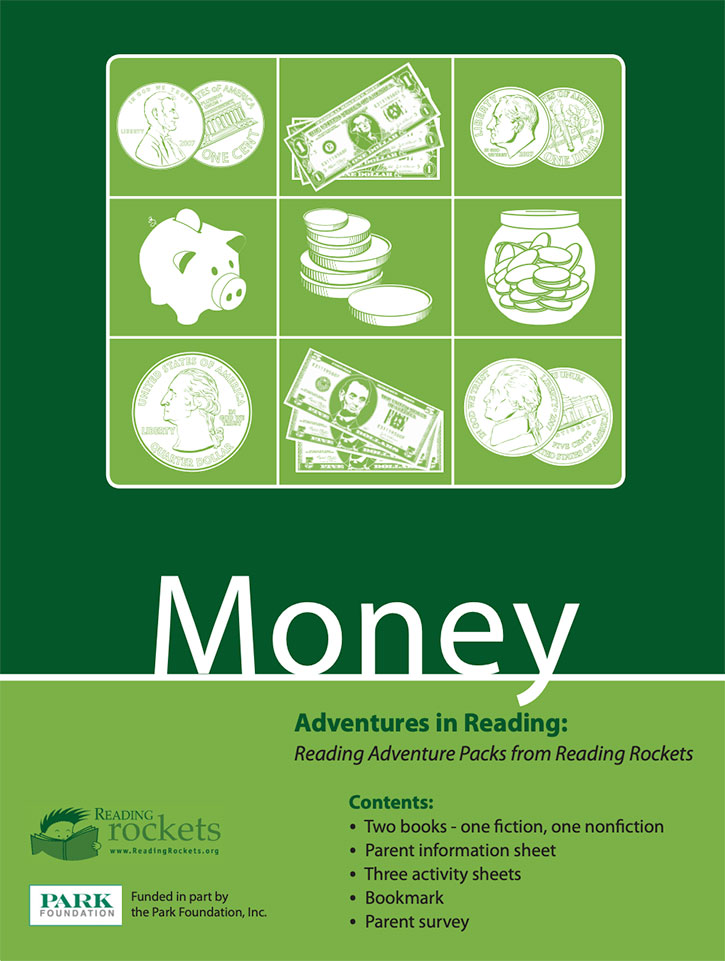 The featured books are A Chair for My Mother by Vera B. Williams and Money (Eyewitness Books) by Joe Cribb. A Chair for My Mother offers a touching lesson about the rewards of hard work, thrift, and savings. Rosa, her mother, and her grandmother lost all their possessions in a fire. While generous friends and family members help them begin to refurnish their apartment, they long for a comfortable chair. Together, they work and save until they have enough money to bring home the most beautiful chair in the world. In Money, detailed, full-color photographs help explain the history of money and how coins and paper money are made, a look at currency around the world, and tips on coin collecting.
Get the books
The featured books were chosen for their quality and availability in most school and public libraries. For other book suggestions, check out the bookmark in the PDF.
What's in the reading adventure pack?
Parent information sheet with an introductory note that teachers can personalize, instructions about how to use the packet, and tips for sharing fiction and nonfiction books with children
Two books: one fiction and one nonfiction, selected by Reading Rockets for high quality and wide availability in school libraries
Creativity Activity: a hands-on craft project
Imagination Activity: encourages imaginative play, writing, or drawing
Get Real Activity: focuses on real-world experiences for parent and child
Bookmark: lists the featured titles and alternative titles
Parent survey
While designed as a school-to-home project, reading adventure packs are also great for summer programs, after-school programs, and home-schoolers.
Reprints
You are welcome to print copies or republish materials for non-commercial use as long as credit is given to Reading Rockets and the author(s). For commercial use, please contact
[email protected]
.