Explore trees!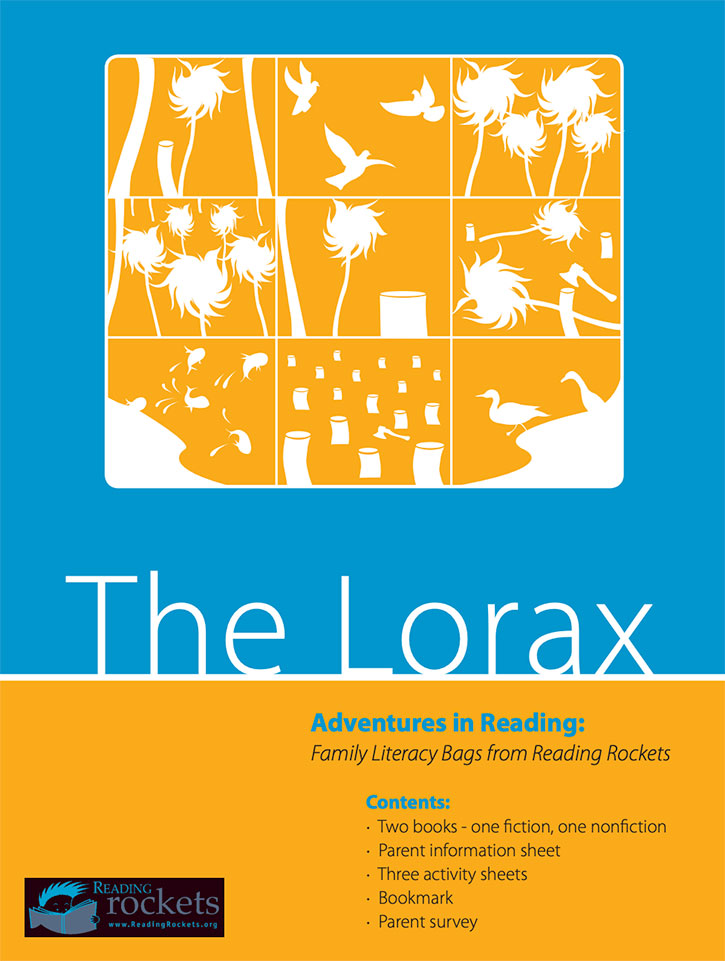 The featured books for the The Lorax Reading Adventure Pack are The Lorax, written by Dr. Seuss, and Tell Me, Tree, by Gail Gibbons. The Lorax, The Lorax tells the story of how the greedy Oncle-ler hacks down Truffula trees in order to make Thneeds, a rather frivolous item that he believes everyone needs. The Lorax disagrees and tries to reason with the Once-ler to get him to see the consequences of his actions on the environment. In Tell Me, Tree, we learn how to identify different kinds of trees, the parts of a tree inside and out, and the important roles trees play in our lives.
Get the books
The featured books were chosen for their quality and availability in most school and public libraries. For other book suggestions, check out the bookmark in the PDF.
What's in the reading adventure pack?
Parent information sheet with an introductory note that teachers can personalize, instructions about how to use the packet, and tips for sharing fiction and nonfiction books with children
Two books: one fiction and one nonfiction, selected by Reading Rockets for high quality and wide availability in school libraries
Creativity Activity: a hands-on craft project
Imagination Activity: encourages imaginative play, writing, or drawing
Get Real Activity: focuses on real-world experiences for parent and child
Bookmark: lists the featured titles and alternative titles
Parent survey
While designed as a school-to-home project, reading adventure packs are also great for summer programs, after-school programs, and home-schoolers.
Reprints
You are welcome to print copies or republish materials for non-commercial use as long as credit is given to Reading Rockets and the author(s). For commercial use, please contact
[email protected]
.