What do you see when you look at an American flag? What do its colors, stars and stripes call to mind?
"Blue sky/White Stars …", red and white rows evoke more than simply a flag. It can represent a country's landscape, its history, and most important, the people who together create one nation, beautiful in their diversity.
The author of Blue Sky White Stars (opens in a new window) (Dial), Saravinder Naberhaus, wrote the poetic text as "a parallel between America and its flag; the same words describe both."  Kadir Nelson's luminous paintings interpret the words in richly colored, evocative paintings, juxtaposed on opposing pages or spreading across double pages. Together words and image present a celebration of the United States.
In the illustrator's note, Nelson says, "The American flag is a shining symbol that calls us to remember that we have the potential to uphold the promise of 'Life, Liberty, and the Pursuit of Happiness,' together. Only together."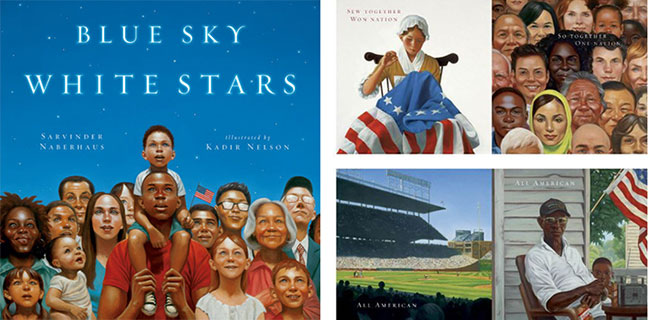 The anger and outright hatred of recent events cannot be ignored. Our country's complicated and sometimes ugly history has early and lasting effects. Racism and other prejudices' impact our children early; negative biases become evident in children as young as 3 and 4 years old (opens in a new window).
Environment can counter this, starting with the way children see adults behave toward others. We can help our children think more critically about things that we know are hurtful (ever heard something like "girls can't do math" or "boys don't wear pink"?). The better we know other people from different backgrounds, the less likely our children are to view them as "other" — those who look or pray differently.
The chance to meet people with varied backgrounds may not be easy in some places — and this is where books become crucial. They allow children and their significant adults to meet people from other places, other times, other cultures, and more. Books — like Blue Sky White Stars — can start a meaningful discussion between adults and children.
But it starts with adults. I only hope that it starts soon.
About the Author
Reading Rockets' children's literature expert, Maria Salvadore, brings you into her world as she explores the best ways to use kids' books both inside — and outside — of the classroom.
Publication Date
August 15, 2017