In honor of National Poetry Month (opens in a new window) I contacted one of the most prolific and versatile poets and anthologist whose books I've long used and admired.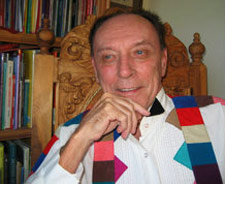 Lee Bennett Hopkins writes original verse and finds other poems about myriad topics and for a broad range of children. You can sample these on a
booklist of poetry collections written or compiled by Lee
. (A few books he mentions below are also included.)
You are both an anthologist and a poet with more than 100 books to your credit. How did you come to embrace these two roles?
My debut as an anthologist began in 1969 with the publication of two books. I Think I Saw A Snail: Young Poems for City Seasons, illustrated by Harold James (Crown) became one of the first picture books of city poems dealing with diversity. Don't You Turn Back: Poems by Langston Hughes (Knopf), truly a breakthrough book for me, was the first book of Hughes' work for young readers since his The Dream Keeper and Other Poems (Knopf) appeared in l932; the book was illustrated by Ann Grifalconi in two-color woodcuts, had an Introduction by the famed Arna Bontemps, and became an ALA Notable Book.
In 1994, I had the honor of writing the Introduction for the 75th Anniversary Edition, illustrated by Brian Pinkney, with an Afterword by the legendary Augusta Baker.
I suspect from reading a bevy of wondrous works I began thinking about writing poetry. After having many poems appearing in magazines, my first book of poems, Charlie's World (Bobbs-Merrill) was published in 1972.
A concept about coming-of-age sparked Been to Yesterdays: Poems of a Life (Wordsong/Boyds Mill Press, l995) reflecting my own life experiences as a pre-teen. The book won a bevy of awards including the Christopher Medal. This year marks its twentieth year in print.
Your poetry titles span a wide range of topics – from the natural world to American history and even your memoir in verse. How do you choose the subjects about which you write?
So many of my ideas for anthologies come from years of teaching elementary school. I was always interested in combining poetry with all subject matters. If, for example, it was teaching math, I couldn't resist sharing the wondrous "Arithmetic" by Carl Sandburg with students. I searched for poems about everything – from books to baseball!
Do you have a specific reader in mind while you're writing your poetry?
No. The specific reader is the specific writer in me.
Young children enjoy the sound and rhythm of words almost innately. Tell us about your new (and handsome) collection, Lullaby and Kisses Sweet (Abrams) which is geared toward babies and toddlers.
I worked on this compilation for a long time. I feel it is of the utmost importance that babies are exposed to oral language, hearing words, knowing books, as early as being in the womb! The sooner we get our children to read, to appreciate words, the faster they will become lifelong readers.
And what could be more important than instilling children with the music of poetry.
Hearing rhymes and verse opens children to experience the world around them. I chose topics for Lullaby and Kisses Sweet … that are both universal as well as an integral part of growing up … Family, Food, Firsts, Play and Bedtime.
What could be more enjoyable than reading a poem about something that is a new childhood experience – taking a first step, playing in a sandbox, the joy of getting a new puppy, or having a teddy bear tucked near one's head at bedtime? Experiences to cherish, to share, via verse.
How has poetry for children changed over time?
Like everything else in our society poetry has changed, is changing, will forever change. New voices, new movements, new ideology comes forth, all reflected in poet's work. We can find poetry written about daffodils as well as divorce, blue skies as well as bullying, flowers as well as interracial families, et. al. It is an exciting time for poets and poetry, a divertissement that continues to nurture and grow.
What does poetry accomplish that prose can't?
I feel at times more can be said and felt in 8 or l0 or l2 lines of poetry than an entire novel can convey. A poem – one poem – can change lives. The poet Janet Wong cites one poem by the late-great Myra Cohn Livingston – "There Was a Place" – as a work that changed the course of her entire life. The poem appears in There Was a Place and Other Poems by Mrya Cohn Livingston (Margaret K. McElderry Books, l988). [Note: This book is out of print, but should be available at some school or public libraries.)
Tell us about the Lee Bennett Hopkins Poetry Award.
In the early l990's, a very exciting group had formed, The Children's Literature Council of Pennsylvania. In l992, I wrote to Steven Herb, then president of the association, asking if the Council might sponsor The Lee Bennett Hopkins Poetry Award to further promote the genre in a different way since the NCTE Award is given to a poet for their aggregate body of work and then given only every three years. The award I would establish would be for a book of poetry, given annually and come with a cash prize. Steven immediately replied, "YES!"
I wanted the award to be part of Pennsylvania history in that I was born in Scranton. The award seal is a replica of The Jessie Willcox Smith Mother Goose, depicting Mother Goose embracing two children. Smith was also born in Pennsylvania (Philadelphia) in 1863.
The first award, presented to Ashley Bryan for Sing to the Sun (HarperCollins) was held at the Governor's Residence in Harrisburg – a grand ceremony. This was Ashley's first book of poetry. A few weeks after the event, a large package reached my home: It was the original jacket art from one of Ashley's books of Black American Spirituals.
The award, now named The Lee Bennett Hopkins/Penn State University Poetry Award, remains the only award of its kind in the United States.
To further promote poetry, I founded the Lee Bennett Hopkins/International Literacy Association Promising Poet Award, and the Lee Bennett Hopkins SCBWI Poetry Award. Each award is different. Each comes with an honorarium.
My beloved maternal grandmother, Lena Thomas, always told us to "give something back." In memory of her wise words I am "giving back" something to a genre that I cherish and to honor the place where I was born.
Is there anything that I haven't asked specifically that you'd like to address or add?
When bringing poetry and children together – PLEASE – just bring them together. They do not need to answer endless senseless questions or stomp verse into the ground surrounded by a bevy of activities. Do children really have to be asked how they know Miss Muffett wasn't married? That a lovely verse about a city has to be followed up doing research on population? That a poem about math has to be followed by a discussion on the law of relativity? NO! Read the poem – and quite simply, shut up!
__
Visit the Lee Bennett Hopkins website (opens in a new window) to learn more about the poet and his many, many books.
And Lee wanted to let us know about his newest book, coming this fall: Jumping off Library Shelves, illustrated by Jane Manning (Wordsong/Boyds Mills Press), a tribute to the greatest places on earth – LIBRARIES – and to the greatest people on earth – LIBRARIANS.
About the Author
Reading Rockets' children's literature expert, Maria Salvadore, brings you into her world as she explores the best ways to use kids' books both inside — and outside — of the classroom.
Publication Date
March 31, 2015