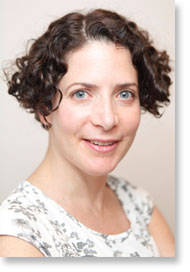 A native of Vermont, Erica S. Perl now lives in Washington, D.C., where she writes a range of books for young readers. She has done very funny picture books, novels for middle grade as well as books for young adults, and most recently a novel in play form,
Your book, The Capybara Conspiracy (Knopf) is subtitled "A Novel in Three Acts." It's a very funny story set in a sports-crazed middle school with a large rodent as its mascot. Tell us a bit more about the plot and the story's background.
The book is about four middle school students — Olive, Reynaldo, Brie, and Pablo — who all feel ignored and unappreciated by their school. Olive is an aspiring playwright, Reynaldo is her best friend, Brie is an animal rights activist, and Pablo is a recent immigrant from the Dominican Republic. They decide to make a statement by kidnapping their school mascot, Cappy the capybara (an actual capybara, which is a giant, hairy rodent), which does not go as planned and leads to giant, hairy problems for all of them.
You seem to capture the range of tones we hear from middle schoolers, ranging from snarky to funny to wise. Why and how did your ear become so attuned to this dialog?
I genuinely like middle schoolers, and I guess the answer is: I try to listen to them (I do a lot of school visits and I lead writing workshops). They are uniquely funny and creative, so I tried to honor that by writing middle school characters who think and talk like real middle schoolers.
Capybara … is presented in play form complete with stage directions and suggestions for how dialog should be read. But it professes to be a novel. Talk about the form you used and why you chose it.
I started out writing this book as a "regular" novel with four alternating perspectives, but I got really stuck and frustrated. I went for a run to clear my head, and I listened to an episode of This American Life's podcast (in which Lin Manuel Miranda dramatized a previous story from their radio show), which totally changed my thinking on the book. I came home and started writing Olive's chapters in play form — because she's a playwright — and the book completely took off. I kept writing it that way because I was having fun and getting to know my characters so much better. I wasn't sure if it was an exercise that would lead to a better "regular" novel or if I was writing the book itself. Ultimately, I got very excited about telling a story this way. I love theater, and did as a kid, so I saw the potential for kids to jump into this story like they do with graphic novels. And so far, the reaction I've seen has confirmed this. Kids get into this book.
What prepared you to write a script for a play?
I wrote, directed, and acted in plays in high school and college (and was a theater major before I took a turn and ended up concentrating on law and sociology). I also wrote scripts for an animated PBS program. And two of my picture books, Chicken Butt! and Chicken Butt's Back! are written entirely in dialog, thus lending themselves to Readers' Theater. I'm also a huge theater buff, with a great love for live theater and reading plays. So, I have studied the form and yearned to get back to it for years.
How does writing a script differ from writing a traditional novel?
So many ways! Everything has to be stated or implied on the page … you don't have the luxury of living in your characters' heads as you might in a traditional novel. Also, you need to think in 3D. So when I finished writing the text, I realized I needed to "stage" the book. This was for many reasons, like to ensure I didn't give characters lines when they were not onstage, and to make sure all the action didn't happen in one spot. I went on to workshop the book with a group of sixth and seventh graders, but my first "cast" was a bunch of desk ornaments (mostly chickens … I have a lot of chickens) I labeled with character names and moved around my desk while reading their lines aloud. It was extremely instructive, I have to say!
What recommendations would you make to young readers who wanted to perform the Capybara Conspiracy?
Have fun with it! I put stage directions and additional theater resources in the book and more can be found on my website (opens in a new window). And now, thanks to Linda Vars, the director of the Newport Children's Theater, I now have two short adapted versions of the book that are perfect for students looking for a one-act version to stage (reach out to me through my website if you'd like to see them). But you can also perform the entire book — as a fully staged play or as a Reader's Theater performance — or you can create your own adaptation. Just let me know, as I am very interested in keeping track of all the cool and creative things kids are doing with it.
Close to the time Capybara was published, a picture book about another rodent was released. Ferocious Fluffity: A Mighty Bite-y Class Pet (opens in a new window) (illustrated by Henry Cole (Abrams). This story about a class pet run-amok is set in a second grade class. Tell us about Fluffity's backstory.
Ferocious Fluffity is based on two animals: Pinky, a classroom hamster my family hosted for the weekend that famously bit me the moment I touched her, and Violet, a guinea pig my younger daughter once had who bit everyone. I love animals, as you'll see from all of my books, and I wanted to tell the story of a cranky little hamster who is just plain misunderstood. As the kids in the book finally realize, Fluffity needs exercise and stimulation, but above all she needs her space … really! That's what Pinky and Violet were probably trying to tell us … but they were so cute that at first, like the kids in the book, we just didn't pay attention to their needs. I think many little kids feel this way sometimes, so that realization added another layer to the story.
This is the third book you've worked with illustrator, Henry Cole (Chicken Butt (opens in a new window) and Chicken Butt's Back (opens in a new window) (both Abrams). Often, publishers keep writers and artists apart. Tell us how it was working with an illustrator you know.
Henry and I worked on Chicken Butt! and Chicken Butt's Back! before we knew each other, but after we met and became friends, we were eager to do more books together. I showed him my draft of Ferocious Fluffity and he was excited to illustrate it, so we were both thrilled when our publisher said yes. I have to say that even though the traditional way of making books is for author and illustrator to stay far apart, I like collaborating so much more … and I think it leads to great books and wonderful moments of serendipity and synergy. Sometimes, I'll notice where Henry's art is carrying the story, and I'll take words out because they aren't needed anymore. Or I'll change a line to riff on something funny he put in a picture. And the best part is, if we're in the same place, we can do this over coffee!
For more information about Erica, take a look at the video interview (opens in a new window) on Reading Rockets (and a selected list of her books) or visit her website (opens in a new window).
Many thanks, Erica! And to all of Erica's fans and readers, look for her next book!
About the Author
Reading Rockets' children's literature expert, Maria Salvadore, brings you into her world as she explores the best ways to use kids' books both inside — and outside — of the classroom.
Publication Date
April 4, 2017