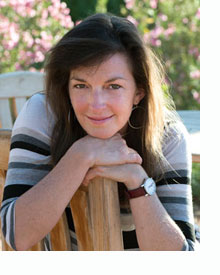 Karen Deans is an author and an artist who tells stories in several ways. She uses rich language in her books as she reveals lives of interesting women.
She is a painter, creating images that capture a mood or a place for the stage. And some of her paintings are just for pleasure to look at every day.
I knew Karen's books before I met her. I was seated next to Karen at a luncheon and was as fascinated by the stories behind her books as I was with the books themselves. She reminded me that there are stories everywhere; all you need to do is see them.
Now, meet Karen Deans!
You've published two picture book biographies so far. Both are about relatively unknown women. Tell us first about Playing to Win: The Story of Althea Gibson (opens in a new window) (Holiday).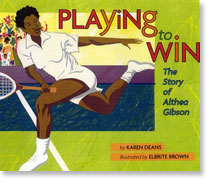 Tennis champion Althea Gibson's trailblazing legacy was largely forgotten by the time I wrote
Playing to Win
, though I had known about her from my early childhood in Atlanta, Ga. I was a tennis player, and my father, who was also my first tennis coach, had seen her play at the U.S. Open in Forest Hills, New York. His stories about watching her play, as well as her determination and resilience in the face of racial and gender discrimination, were inspiring to me, even as a kid. I dreamed of being a tennis champion, so she, like many other female tennis greats — such as Margaret Court, Chris Evert, Billie Jean King — were all on my radar.
Years later, while visiting the library with my then first-grade daughter, Maisy, I discovered that nothing had been written about Althea Gibson for elementary school-aged children. This was surprising to me. And very disappointing. So I decided to write a book about her. Because who doesn't need role models to spark the imagination, to fuel our desire to do or be our very best selves? Althea Gibson worked hard at what she loved most, and she never gave up — despite the unrelenting obstacles that history and contemporary society thrust in her path. As far as I can tell, that's a story everyone should know about.
Fill us in on Swing Sisters: The Story of the International Sweethearts of Rhythm (opens in a new window) (Holiday) and be sure to include the backstory.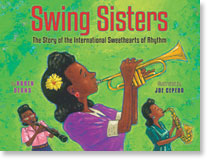 After writing my first book, I was on the hunt for subject matter for my next one. You never know where a good idea will present itself. I was on a train headed to a children's book conference in New York, chatting with a woman sitting next to me. I told her I was interested in writing about women in history. She said, "have I got a story for you!" and told me about the International Sweethearts of Rhythm, the first inter-racial female jazz band from the 1940's. My interest was piqued; these women were remarkable.
My father, who was a jazz pianist with an extensive collection of jazz records and books, had one of their record albums and a book that featured their story, which began at an orphanage and boarding school for African American children outside of Jackson, Mississippi. They went on to become accomplished musicians from different racial backgrounds, performing swing music, or jazz, which was and still is a very male-dominated genre of music.
This was at a time when Jim Crow laws were enforced in Southern states, where it was illegal for black and white people to socialize or work together. By the time they disbanded after World War II, they had become international sensations. As performers, they received death threats, were chased by police, and some were put in jail. Their talent was dismissed by many critics and they struggled to get bookings in important venues. I was excited by this story of extraordinary persistence and resilience. I began my research never looked back.
What sparked your interest in these women who excelled in two very different fields?
I'm fascinated by people who work hard at what they love to do, and never give up — no matter what. The world is full of success stories, but often we don't know about the difficulties people endure to pursue their passions against the odds. In the cases of Althea Gibson and the International Sweethearts of Rhythm, they had found their "thing." For Althea it was tennis; for the Sweethearts it was music. When the world told them they couldn't do it, they refused to listen. They did it anyway.
There are all kinds of obstacles to prevent us from moving forward with our dreams. They can be internal or external, and both can be crippling. I'm interested in exploring the different ways people overcome external hardships to master their crafts. It requires a lot of discipline, focus and resilience — the ability to rebound after set backs and disappointment. Sometimes it means going it alone. And it always requires perseverance. Never give up!
What is it about the form of a picture book biography that appeals to you?
Pictures and words! The perfect brain food. So much happens to our brains when we engage both sides of it: words activate the left side, and pictures activate the right side. When children experience both at the same time, something powerful happens. The immediacy of pictures provides an instant emotional connection to the story, and the words, which are revealed over time through reading, create a path to critical thinking. Each enhances and supports the other. Both are so important to learning anything, especially history, which can be dry and boring. Also, I just love to read and write, and I love art. Picture books are the best of both worlds. How cool is that?
You're an artist yourself but other illustrators have done the art for both of these books. How do you as an artist respond to the illustrations in Playing to Win and in Swing Sisters?
I have had the honor of collaborating with two exceptional artists, Elbrite Brown (Playing to Win) and Joe Cepeda (Swing Sisters). It is thrilling to see how an artist responds to a manuscript, bringing their artistic sensibilities, vision and talent to the story. Both Elbrite and Joe brought their own brand of playfulness to the projects. They clearly love color, dynamic composition, and texture. These are qualities I pursue in my own work as an artist. I totally connected with their visions for the stories, and am grateful for their uniquely creative contributions.
How has your art background influenced your writing?
As a young person, my dream was to become a writer, but I also loved to draw and paint, which I viewed more as a fun hobby. Then I got a degree in art history from a university in Paris, which was a great place for that. I looked at a lot of art, and spent a lot of time writing about it. That was a formative point in developing my love for pictures and words. As a writer, I have worked as a journalist. As a painter, I have worked as an illustrator, decorative painter, and set painter at a local children's theater. My creative life has always been a dance between the two. They are mutually influential, each enhancing the other. And both have provided a richness and depth to my life that I value as much as the people I love.
Would you ever consider illustrating your own work?
Absolutely. It's on my to-do list, for sure!
What does your day look like? In other words, how do you split your time between writing, painting, and other activities?
I wake up early, at 5 am. I've never been a night owl, and morning is my most productive time of day. My mornings always begin with what I refer to as "quiet time," where I sit with my cat and a cup of coffee and write in my journal. I cherish this time of day. After that, the schedule varies, depending on what I'm working on at any given moment. Currently I'm painting a theater set at a local theater, which takes up most of my days. This will wrap in a couple weeks when the show opens, at which point I will get back to my own projects. I will spend a couple hours or more drawing or painting a current project.
The same for writing or researching a topic for a book idea. Sometimes the writing and research takes precedence; sometimes the drawing or painting is the main focus of the day. It depends on what rises to the surface, but I always try to fit in both. I'm working on ideas for a couple manuscripts and developing illustrations for them, too.
When I get something developed to the point of sending it out, my schedule will change again. Finding a home for a manuscript can be a full time job! And it requires both resilience and persistence, because it's not always easy and things don't always turn out the way I'd like them to. But that's when I remind myself to work hard, and never give up — no matter what!
Find out more about Karen and her storytelling at her website (opens in a new window).
About the Author
Reading Rockets' children's literature expert, Maria Salvadore, brings you into her world as she explores the best ways to use kids' books both inside — and outside — of the classroom.
Publication Date
June 11, 2015