March is a windy month that begins with a playful celebration of some things that may be considered peculiar: green eggs and ham; a green Grinch; oobleck; a socially concerned elephant; Sneetches — with and without stars; a turtle named Yertle; a hatted cat; truffala trees; and even a 75 year old guy with 500 hats (opens in a new window). And more — ever so much more.
Of course, it's only peculiar if you didn't realize that Theodor Seuss Geisel's birthday is celebrated on March 2 annually with Read Across America (opens in a new window).
At Edgewood Academy, an arts education Title I school in Ft. Myers, FL, Dr. Seuss's birthday is celebrated in style. All grades and all staff, even families and the community, get in on the fun. Snacks include riffs on Seussian language, such as: one fish, two fish, three fish, goldfish! With Pink Yink Drink.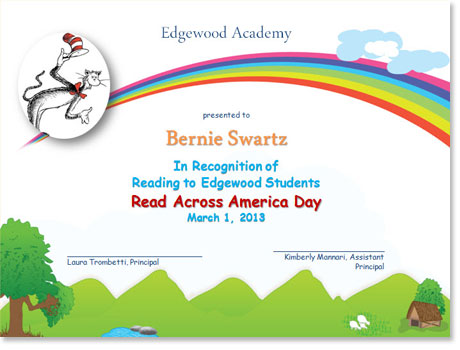 And that's what's so cool about Read Across America celebrations at Edgewood and beyond — everyone is involved. This school has figured out that children learn when they're engaged, that families are engaged when they're part of a reading community, that reading really is fun, and that learning doesn't have to be a chore.
So Happy Birthday, Dr. Seuss — and hats off to all those who make Read Across America Day special!
About the Author
Reading Rockets' children's literature expert, Maria Salvadore, brings you into her world as she explores the best ways to use kids' books both inside — and outside — of the classroom.
Publication Date
March 1, 2013