Laura Ingalls Wilder wrote one of the most beloved series in children's literature. Her "Little House" books, which recount her childhood during the late 1800s, have provided generations of readers with a look at what life was like for our pioneering ancestors.
If you've always wanted a closer look at the Big Woods, wondered what it would be like to play along the banks of Plum Creek or dreamed of wandering the shores of Silver Lake, you're not alone. My mother and I have talked about walking in Laura's footsteps ever since I first read the books as a child.
Living in rural West Virginia, our family often compared ourselves to the hearty Ingalls' clan, especially when dealing with blizzards and flooding, keeping the fire going, and washing clothes with a limited water supply. If Laura could bring in the entire woodpile, so could I!
Older now, and accustomed to central heating and cooling, Mom and I decided it was time to replenish the well with the spirit of Laura. It seemed like a good idea to bring some younger folks — my niece and son — with us too. So four of us undertook this Little Journey on the Prairie, each with a different agenda:
Avery, age 10, a young reader new to the Little House series, recently built a model Little House in the Big Woods for a book report. She wants to see the things she's been reading about — especially Pa's fiddle.
Breece, age 12, is a tech-minded tween out for adventure, looking to see if he really can survive without Wi-Fi. He's our navigator and photographer.
Janet, age 72, is a retired dean and professor who now has more free time for her Women of History portrayals of historical figures, including Laura Ingalls Wilder. She is looking for those details about Laura Ingalls Wilder you can't find in books.
And I'm Rachael, age 45, a consultant for Reading Rockets, avid kid lit reader and Belle of the Book . I'm hoping to recapture those feeling of awe I had when I first read about Laura and her self-reliant family.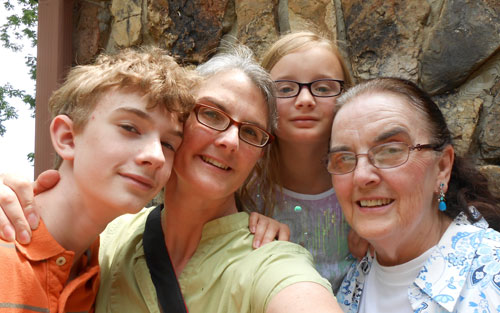 In this special series we'll share some things we learned about Laura Ingalls Wilder, offer some advice for travelers considering their own journey and share lots of ideas for how to bring the Little House world to life for your readers at home or in the classroom.
So get out your books and get ready to follow along!
About the Author
Join children's literacy consultant Rachael Walker and many of the authors, parents, and educators she's met and worked with to talk about how books have changed their lives, how to bring books to life for young readers, and how to enrich kids' lives with good books. 
Publication Date
August 1, 2014