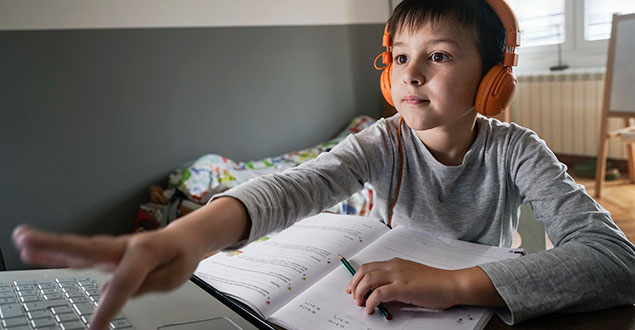 Get tips from parents, teachers, and autism experts. Watch videos › (opens in a new window)
Resources and information that you'll find here
Returning to school
Preparing for Back to School During a Pandemic
As students prepare to return to school during the COVID-19 pandemic, many parents have questions about how to help loved ones on the spectrum cope with social distancing, distance learning, and ongoing change. From the Autism Research Institute (opens in a new window).
Guides and toolkits
To help families cope with the sudden loss of professional support precipitated by the lockdown, the Center of Excellence for Autism Spectrum Disorders and Neurodevelopmental Disorders (InovAND) has created more than 30 instructional modules designed to provide resources, counsel, information, lessons, schedules and overall aid to families at home. See all instructional modules (opens in a new window) 
Sample modules:
This toolkit that provides user-friendly, evidence-based resources for people supporting individuals with autism spectrum disorder (ASD). The toolkit was developed by experts from the UNC Frank Porter Graham Child Development Institute, the UNC School of Education, and the UNC School of Medicine's Department of Allied Health Sciences. Also available in Spanish and eight other languages.
A comprehensive guidebook that includes a collection of helpful, targeted resources for parents, from the Yale Child Study Center.
The Backpack Connection Series provides a way for teachers and parents/caregivers to work together to help young children develop social emotional skills and reduce challenging behavior. The series includes handouts in four categories: addressing behavior; emotions; routines and schedules; and social skills. Created by the Technical Assistance Center for Social Emotional Intervention (TACSEI) and available in English and Spanish.
A collection of tools designed for applied behavior analysis (ABA) providers to assess and reduce health risks related to COVID-19 for the families they serve.
Supporting literacy at home
Teachers and parents can adapt the ideas from these articles to keep kids listening to read alouds, reading independently, and thinking and talking about what they've read.
Using Fascinations to Teach and Challenge
In this video, you'll learn how to take a child's passion — be it calendars, vacuum cleaners, superheroes, dolphins, detectives, or Ozzy Osbourne — and turn it into a learning support.
Inclusive Literacy Learning
With careful and creative planning, literacy instruction can be adapted to meet the needs of every child. Five ways teachers can provide a literacy education for all learners are offered here.
Supporting the Literacy Development of Students with Autism
Some students identified with autism can participate successfully in whole-class rich literacy experiences, with the right kind of support. Learn about strategies for designing lessons that are appropriate, engaging, and challenging for every learner in the inclusive classroom.
Tell Me About the Story: Comprehension Strategies for Students with Autism
Reading comprehension is often a concern for the teachers of students with autism. The comprehension strategies described in this article may help some students gain comprehension skills and improve their ability to read and communicate about written material.
Do You See What I Mean? Visual Literacy Supports
Visual learners and are best able to understand and remember content when they can see it represented in some way; in other words, they need to "see what we mean." Three visual supports helpful for teaching and supporting literacy development are described here: picture books, graphic notes, and story kits.
20 Ways to Adapt the Read Aloud in the Inclusive Classroom
These suggestions can work for kids who need to fidget during whole-class instruction, those who need materials to keep focused, and those who require alternative ways of demonstrating attention, engagement, and interest.
Voices from the field
Dr. Nicole Abera, a school leader at a full-time special education day school discusses critical strategies for distance learning with students who have significant needs. Transitioning technology, communicating with parents, establishing routines, prioritizing engagement, and implementing many ways for students to show what they know as learning demands are increased are addressed with illustrative examples.
Brittany Moser, autism spectrum disorder (ASD) coach at Neighborhood Charter Schools, shares a resource aimed at partnering families and schools during the COVID-19 pandemic. In this case study, Brittany shares how her resource, "Tips and Tricks for Remote Learning," became a foundational launchpad for supporting families in educating their children remotely.
This case study describes a virtual Speech and Language Pathology session focused on language and social pragmatics. Clinicians describe working with a kindergarten student with autism and challenges with language. The use of Zoom, online animated story books, and digital manipulatives are described.
For special services providers
Behavioral therapists 
Speech-language pathologists
The following resources are provided by the American Speech-Language-Hearing Association (ASHA).
Webinars and online courses for families
Talking to Kids About Changing Schedules, Altered Plans, and Disruption during COVID-19
Discover ideas for providing compassionate support to individuals on the autism spectrum who are experiencing disruptions and anxiety related to the virus and its impact. From the Autism Research Institute (opens in a new window).
Emotional Support for Families During COVID-19 Pandemic
Uncertainty and sudden changes are difficult for all families, but particularly so for some families and individuals experiencing anxiety and autism. Tune in for supportive tips, mindfulness techniques, and positive ideas for managing the stress. From the Autism Research Institute (opens in a new window).
Home All Day: Practical Strategies for Supporting Individuals with ASD During 2020 Outbreak
Learn strategies for supporting individuals on the autism spectrum experiencing school closures and changes in routine due to the 2020 outbreak. From the Autism Research Institute (opens in a new window).
A series of training videos for parents about coping with COVID-19 in the home, developed by the Cincinnati Children's Developmental and Behavioral Pediatrics Department.
Visual Supports and Strategies
Children with autism are often visual learners. This course goes step by step through one of the most vital strategies available to support your child. Learn about visual supports and some examples of types of visual supports for free, how to make them, and how to use them. Find web resources and more in this free course from autism expert Dr. Sylvia Diehl.
Autism Navigator How-To Guide for Families
This interactive web-based course is for families who suspect their toddler has autism or a social communication delay. The program teaches families how to embed strategies and supports into their everyday activities, provides developmental growth charts to help families recognize and monitor meaningful outcomes, and offers a deep video library to illustrate how to promote learning and development for toddlers with ASD.
Webinars and online courses for educators
Due to COVID-19 and new guidelines from state and local health officials, school leaders, teachers and staff are faced with the new challenge of maintaining social distancing at school and in classrooms in the upcoming school year. In this edWebinar, Aimee Dearmon, M.S., CCC-SLP, BCBA, will discuss the challenges associated with social distancing in school buildings and in classrooms and how to navigate the new guidelines for students with autism and other developmental disabilities. She discusses creative, evidence-based practices for teaching students new routines focused on social distancing, the importance of wearing a mask, and staying healthy through self-care routines. She also provides free visual supports and resources as well as discuss ways to support families in navigating new challenges at home. Viewers will learn strategies and tools that can be used with students in pre-K through post-secondary classrooms. This recorded webinar will be of interest to preK-12 teachers and school and district leaders.
A self-paced 15 to 20 hour online professional development course with interactive slides and practical video examples. It is designed to increase the capacity of preschool, kindergarten, first and second grade teachers, special educators, therapists, special area teachers, and school staff to support children with autism spectrum disorder (ASD) in the classroom and school environment. This course presents an overview of how the unique characteristics of autism may impact a child's school experience and offers an evidence-based framework for supporting active engagement and positive behavior in a variety of settings and teaching contexts. The content will enable teachers to support students with the materials and activities already available in the classroom.
Reprints
You are welcome to print copies for non-commercial use, or a limited number for educational purposes, as long as credit is given to Reading Rockets and the author(s). For commercial use, please contact the author or publisher listed.