Blogs About Reading
Aiming for Access
Gene Luen Yang, New LOC Ambassador for Young People's Literature, Supports Diversity, Technology
Gene Luen Yang will be inaugurated Thursday, Jan. 6 as the 5th National Ambassador for Young People's Literature at a ceremony at the Library of Congress in Washington, D.C. I plan on being there!
Teacher, Graphic Novelist
Until recently, Yang, 42 was a high school teacher for 17 years. He is the first graphic novelist to take this Library of Congress post that was created in 2008 by the Children's Book Council, Every Child a Reader, and the Center for the Book in the Library of Congress. The ambassador serves for two years and tours the U.S. He will help to shine a light on the importance of young people's literature and the role it plays in lifelong literacy and education. He succeeds author Kate DiCamillo. 
"We are thrilled that Gene Luen Yang has agreed to be the new national ambassador for young people's literature," said John Y. Cole, director of the Center for the Book in a statement. He administers the ambassador program with the Children's Book Council. "Gene's message of inclusion and acceptance of all people is especially relevant today."
Diversity, Tech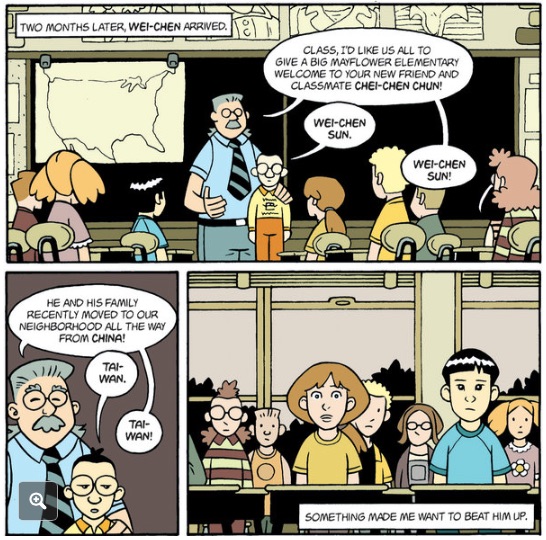 Yang told NBC News that he will promote his platform "Reading Without Walls," a personal campaign urging readers to explore the world by reading books about people who are not like them, as well as topics that might be intimidating or unfamiliar. Yang also hopes to see chilldren and youth explore stories told in different formats. As part of his ambassadorship, he plans to explore ways to use technology to promote reading.
Accessibility
This is an exciting prospect as the graphic novel, his preferred genre, usually is not accessible to screen readers that are used by some learners to access the text. Audio description as a support is used increasingly to help visually impaired learners read comic books and graphic novels. His book American Born Chinese was the first graphic novel to be a finalist for a National Book Award. It also won the American Library Association's Printz Award and an Eisner Award for Best Graphic Album.